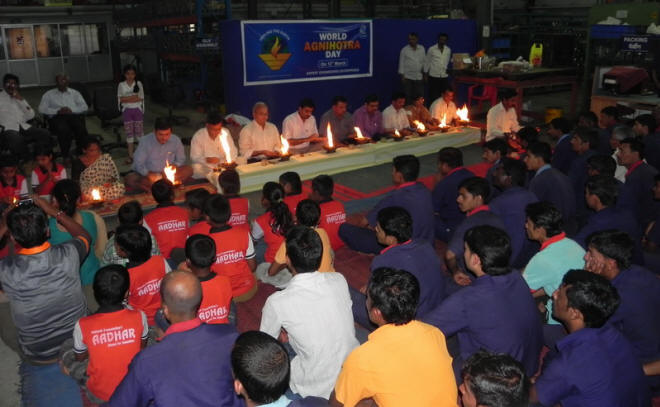 World Agnihotra day was celebrated on 12th March 2012 by conducting an awareness programme for the benefit of the citizens. Dr.Pramod Basarkar enlightened the gathering with the procedure & effects of Agnihotra.
Dr.Basarkar, in his speech, emphasized the importance of Agnihotra in daily life & appealed to the gathering to practise, experience & spread the word to many, as it is the need of the time if we want to overcome the ill effects of environmental degradation.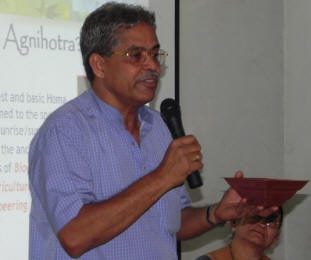 Later a video clip was shown as to how it is followed in India & World Over. Also the proven results of Agnihotra medicine in Agriculture and individual life were shared.
Mr. Mahesh Durdi of Rabkavi, Mr. Mahesh Jadhav of Aadhar Foundation & Mr. Abhay Mutalik Desai of Belgaum shared their experiences of Agnihotra. Everyone said one thing in common is – "Apart from the environmental pollution it has helped them clear mental pollution & thus have a stable mindset & have clarity of thought."
A question answer session was then organized to clear the doubts of the participants.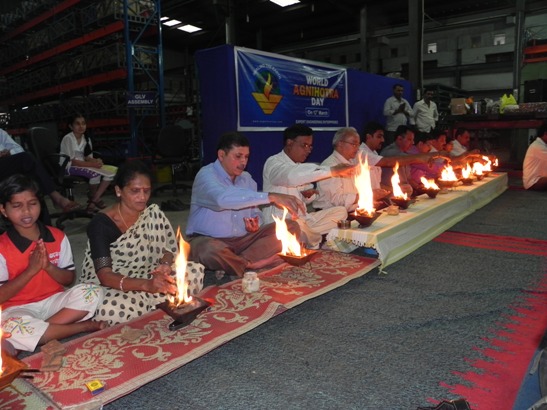 Agnihotra was then performed in a group at the local Sunset time.
An excerpt was then released at the hands of Mr. Manohar Watwe, which highlighted the vision of Expert Engineering to convert A Factory in to a "Work Temple."
The programme ended with Vande mataram & sweets distribution.
Apart from the workers and staff of Expert Engineering, Mr. Satish Nilajkar, Mr. Tejasvi Naik, Mr. Vinay Jathar, Mr. Venkatesh Patil, Mr. Sudhir Darekar, Mrs. Alka Kulkarni, their family members, Children from Aadhar Foundation & other citizens were present & participated in the event.
Earlier in the day an awareness programme was held at Mahila Vidyalaya wherein the teachers were trained on the same subject by Dr. Pramod Basarkar & Mr. Vinayak Lokur. Mrs. Shobha Shanbhag – Chair person, Mr. Vivek Kulkarni – Secretary, Head mistresses & teachers were present.