3 Day Live–in Agnihotra Teacher Training Australia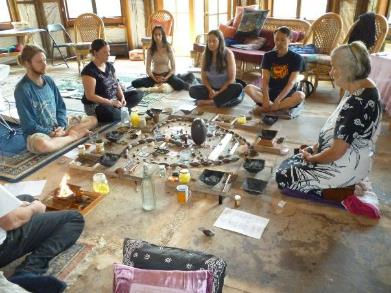 Vyahruti Homa at 10am, 12pm and 3pm
In February this year we held our first Australasian Agnihotra Teacher Training course at Om Shree Dham, Homa Therapy Centre in the Hunter Valley NSW.
There are many people desirous of sharing Agnihotra with others but invariably we find that they struggle with how to describe Agnihotra often ending up using terms such as ceremony, ritual or Indian practice. And then suddenly the gift of environmental healing for all ends up reaching a very limited audience.
In response to the need we put together a 3 day live-in course that we will conduct yearly. We are not talking about Homa Therapy Teacher Training, a much larger field of knowledge and application and which has very specific requirements such as a commitment to an Ahimsa lifestyle (practice of harmlessness) which includes vegetarianism and other subtle requirements. We are talking simply about assisting others to confidently share Agnihotra in the way Shree Vasant taught us – primarily as a universal environmental healing tool from the ancient knowledge base of Ayurveda.

Read more…