Again many visitors from around the world and from India attended this year's Somayag. It was a mixture of languages, colors, tastes, forms of being, etc. but above all, there was the feeling of having come together to share the PEACE and LOVE emanating from these Ancient Holy Fires, to seek UNITY behind the cultural and historical differences and to UNITE all our forces and strength in the name of Mother Earth, who is in dire need of healing.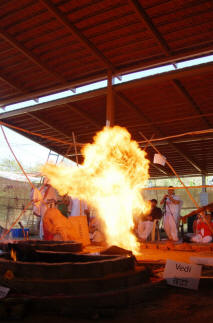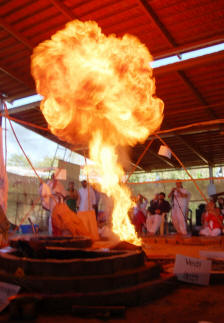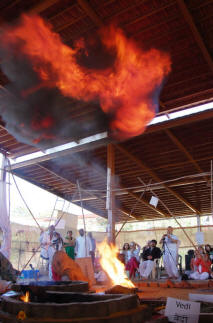 The Yajamana (chief priest), Mr. Haribhau Apte, his wife Shraddha and their son Achal brought the Sacred Fire and their group of priests again this year to Maheshwar to perform the Somayag according to Ancient Vedic tradition. There were constant offerings of ghee, Soma, milk, sweets, etc. Before any action is taken, Mantras are chanted. Several times during the Somayag the fire is being offered a certain mixture of ghee, cows' milk and goat milk with Mantras and the flames shoot up high, creating a special atmospheric effect and purification.
During the 5 days of Somayag, many Agnihotras were performed at sunrise and sunset by the many visitors.

The Homa family is growing day by day, more wonderful loving, young and young at heart beings from all over the planet join in to receive and send healing energies through Agnihotra to Mother Earth, to places of: war and disaster, hunger and famine, violence and crime. Agnihotra heals one heart at a time!
The end of the Somayag was celebrated by putting the instruments used during the 5-day Fire into the river Narmada and everyone immersing and bathing in this Holy River.