Bhargava Dham is situated in Elqui Valley, Chile. Since the activities started in Bhargava Dham, many beautiful things have been experienced in this very special place. A story full of dedication and service that is still in progress, being written with the pen of love of the Masters and Beings of Light that are permanently present in each stone, in each plant, in each grain of sand of the sacred Cochiguaz River.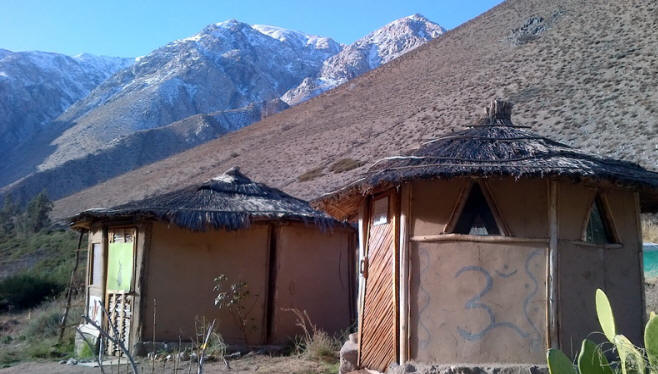 We know that it is not an easy task, mainly because its central core of activities requires a lot of human dedication and discipline, with the responsibility of keeping the fundamental Homa fires lit to provide the deployment of all the energies that are available there for activation through the Yajnas.

The initial work of structuring the place has begun throughout all these years, from the acquisition of the land, with the construction of the temples, the main house for permanent residents, the visitors' and volunteers' cabins, the plumbing and electrical systems, adjacent facilities, roads, bridges, planting of fruit trees, irrigation system, fences, etc.

As suggested by Shree Vasant V. Paranjpe, to further intensify the energetic irradiation, a very specific Pillar of Resonance was installed in Bhargava Dham. Its activation was done to tune it to the other two points of light (one in India and the other in Poland) and inject more energy into the atmosphere for planetary healing.
In its vocation, Bhargava Dham is a place that must be fully designed and adapted to the practice, study and teaching of Homa Therapy and the Fivefold Path in all its extension. A place of inspiration for those who are looking for a living example of a Homa Farm, from its planning, installation and maintenance, to becoming as self-sustainable as possible.

Bhargava Dham is in a stage of restructuring in order to fulfill its noble task, which exists at the human and planetary level. For this, the aim is to extend the hours of yajñas and develop the Homa agroecological project. This month some programs were carried out with that objective. In particular, the volunteer visit of our dear friend, Agricultural Engineer Carolina Morales, and her students took place.
| | |
| --- | --- |
| | Due to the support of some friends who are very involved in the cause, it has been possible to carry out the work, mainly in these last two years, which have been so difficult all over the world. Some donations arrived that were fundamental and came as a great blessing, which is deeply appreciated. |
It is essential to unify efforts in a well-articulated manner. Much material and human support is needed to continue carrying out such an important mission. Bhargava Dham is for everyone! And we are all part of this beautiful work. Let's make the work developed in Bhargava Dham our contribution to future generations, as a positive example to the planet.

Photos: Agnihotra and Tryambakam huts of Bhargava Dham;
Students and volunteers trimming the trees;
construction of the cabins;