We celebrated a beautiful Homa event in the village of Calarcá. It was organized by Mother Dora Betancour and the team of the Homa Medical Center La Botica de la Abuela (Grandma's Pharmacy). About 250 people, interested to know more about this ancient healing technique, attended. Prof. Abel presented Homa Therapy and its effects on human health through videos and live testimonies.
Mrs. Valvanera told everyone, that the lump in her breast, diagnosed as carcinogenic, disappeared through the practice Agnihotra, the intake of the Agnihotra ash and the applying of the Agnihotra ash cream. Dr. Luz Stella Cruz shared her healing testimony about gastritis. All attendees received Agnihotra ash and several people want to organize with Dr. Humberto Lema a Homa Center in Calarcá.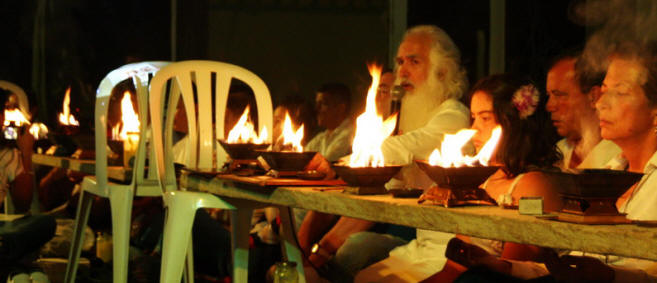 Photos: (top) Prof. Abel and Mother Dora Betancour opening the Homa event in Calarcá.
(middle) The participants during Agnihotra.
(bottom) Row of Agnihotris actively participating in this healing experience of Light and Sound.