Dr Henry Gregory writes from Baltimore, MD, USA.
On May 15th, Jannette and I went to Accra, Ghana in West Africa for a dual purpose trip. I had been commissioned by an agency that I work with to train young psychologists in Accra, and as representatives of the Baltimore Homa Community we were to connect with Agnihotra practitioners in Ghana and identify a site for a Homa farm.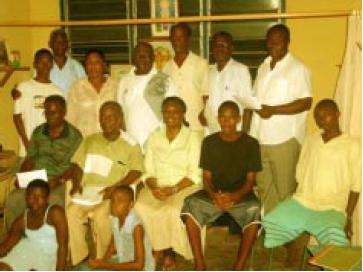 Our host for the trip was Nii Ada Boafu, a longtime Agnihotri and special assistant to the President of Ghana. Nii coordinated our efforts and provided all transportation. He arranged for us to stay at the home of Judy Menyah, an Agnihotri who lives in an area of Accra called Nima with her extended family.
Judy provided us with a place to stay and all the delicious meals one could eat. Judy is the director of a day care center that accommodates about ninety children in classrooms situated right beside that fire room where she maintains daily Agnihotra and Om Tryambakam fires.
Jannette and I led a three-day retreat and two days of follow-up training for the staff of Progressive Life Center Ghana. While the training is for certification in a clinical intervention model called NTU Psychotherapy that I helped develop over the last twenty years at PLC, these trainings, as are all the trainings that we provide, are grounded in the teachings of the Fivefold Path that we have practiced for over thirty years. So it is with this understanding that we accept the commission to provide professional training in Ghana while looking for a Homa farm site as Shree's Grace.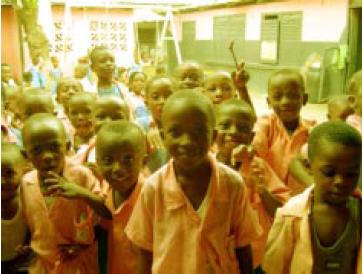 While in Ghana we met twice with Ghana's "fire family", a group of Agnihotris who had been introduced to the Agnihotra by Nii. They meet on Saturdays for collective study, singing and Agnihotra. We were most delighted to bring greetings from the Baltimore Homa Community, to share our mission and participate in Agnihotra with them. On one occasion after we shared some information, "fire family" members began to share their anecdotal experiences with the fire. One man explained that his fifteen-year-old son was born with one testicle and regularly experienced stomach pains. After they began to perform Agnihotra regularly, the young man's testicle dropped and all stomach pain left. Another man commented that he had sprayed Agnihotra ash and water on a dying banana tree and it was revived. next to Agnihotra itself, however, the treat of the gathering was hearing angelic voices of the young people as the group sang songs.
We looked at about five or six plots of land in our search for the Homa site. It seemed that everyone we met wanted to help with this project, once we shared our mission. It probably helped that news of the escalating food prices was all over the news and our discussing the need for sustainable farming was well-received. Over half the people in the world now live in cites – some cities with as many as twenty million people. These cities are overcrowded, unsanitary and unresourced. The availability of food and water is already a critical issue in many places.
We looked at forest sites quite distant from Accra and savanna sites that were closer. Each site had some advantages and but none seemed just right. Any site that we choose will require that we build housing, as there is no such thing as vacant, usable housing in Ghana. Nii and Judy are continuing the search for the property and I am certain that we can find a site as more and more people are offering their assistance.
Our attention has now turned to developing businesses that can sustain the Homa farm as it develops and transitions into a self-sustaining entity. We have been in regular contact with our Ghana family since our return to the US, as we are collectively looking at trade possibilities.