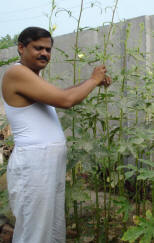 Here everything is in good progress. We are sending you some pictures of the vegetables from our little HOMA ORGANIC GARDEN in Amalner city, which is in the dry land region of Central India where temperatures reach up to 48 degrees in summer.
We planted vegetables like lady finger, two different types of gourd, beans, lemons, etc. We do daily sunrise & sunset Agnihotra & regularly some Om Trambakam Homa.
We are also giving the Agnihotra ash & Homa ash regularly to the plants and we are getting beautiful results. The food quality & quantity is really surprising.
In the picture you can see the vegetables. We harvest every 2 to 3 days and even though the plot is small, we get enough for our family of 4 and other people who know about our organic Homa garden come to buy our vegies because of their taste and quality. We are sending much love to everyone.