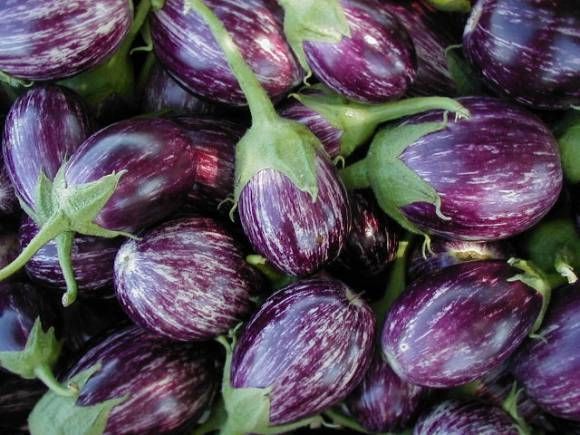 Mrs. Manisha Sonwane has an allergy to the brinjals* which she brings from the market. If she eats those brinjals her throat gets swollen & becomes red. Then she has to visit the doctor.
She is my neighbour. When I visited her to give her my garden brinjals she told me of her allergy. I told her not to worry, just try these brinjals. She cooked those brinjals and ate them. But to her surprise, no symptoms of allergy. And instead of going to the doctor both husband and wife came to our home asking us which brinjals I gave her.
I asked her why; if she had any complaint. She told me: 'First of all I am allergic to brinjals so I was afraid to eat them. Very hesitatingly I ate them. But your brinjals didn't cause me any allergy. They are so good in taste also. What are you using in your garden?'
I said, 'This is all because of our AGNIHOTRA & AGNIHOTRA ASH. Daily we are doing Sunrise & Sunset Agnihotra. We use that Agnihotra Ash in our garden. This is all because of that.'
They told us that they also wanted to do Agnihotra. So we took them to Tapovan. There they learnt Agnihotra. They have started their own Agnihotra now. Manisha is also coming to the Women's Healing Circles that I am taking every week.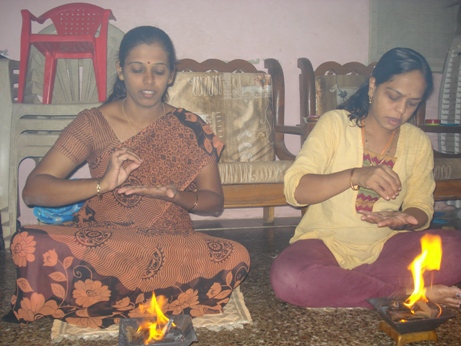 Photo: Manisha (left) and Prerana (right) performing Agnihotra in Amalner, India.
* Brinjal is like a small aubergine (egg-plant)