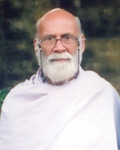 Mr. Dhananjay Jog writes from Bangalore:
"I am enclosing a photo, where Mr Mulay (photo right) and his wife are establishing Homa Resonance Points on farms in Andhra Pradesh. They did that in two villages in Chittoor District. Previously I had conducted there weekly (from September to November, 2011) Agnihotra & Homa Farming awareness camps in the villages Kothaindlu in Tirupati Mandal and Chandam in Kuppam Mandal of Chittoor District.
The results were:
Five farmers have started Homa Farming since December.
They perform Agnihotra regularly.
All five farmers have been trained to process biosol. They use biosol in farming.
They're happy with Homa Farming as they produce more vegetables of better quality.
Children also love to attend Agnihotra while their parents perform it.