From June 4th-6th, Henry Gregory, Tom Couto and I attended a Gathering of Eagles: Return to the Sacred Fire gathering in Grain Valley, Missouri. The event was sponsored by the Indian Ministries Council of the Americas and was held at an ICA (Institute for Cultural Awareness) campground.
The ICA described the purpose of the meeting as follows:
As the world stands on the brink of all-out earth changes, this summer indigenous leaders and tribal elders from throughout the Americas will make the long journey to Grain Valley, Missouri for a special summit to fulfill their people's pre-Colombian peace prophecy.
From June 4-7, some of the last living direct descendants of the new world's first nations will gather on the central plains of North America for inter-tribal ceremonies and cross-cultural exchanges intended to realize their tradition's long-standing common vision of uniting the Americas.
The special summit of native nations stands in stark contrast to the gridlocked gatherings of global leaders attended exclusively by members of the ruling class from economic superpowers.
It comes at a time when the prospect of catastrophic events like global warming, earth changes and world wars are causing people everywhere to perceive an urgent need for a new way of relating to each other and the earth.
The fulfillment of the prophecy, known by all indigenous nations as the return to the sacred fires, has been believed by many for centuries to be a precursor to a new era of peace and prosperity that will begin to spread throughout the world. The symbolic story states that when all the people have returned to the sacred fires, peace will reign on earth.
The elders of North America still have their ancient fire ceremonies and view their coming together at this time as the prophecy's long awaited fulfillment. they have called on their counterparts from throughout north, south and central America to be present at this historic event. Peace-keepers are welcome to come from around the world and many will also participate
through synchronous ceremonies held at sacred sites from Europe to Asia.
"Contrary to popular belief, Armageddon and the 2012 apocalypse are not inevitable," share summit organizers. "Globalization has brought us to the brink of a new civilization, and we must now vision together our goals and dreams of re-uniting and not be influenced by the old paradigms that are pulling us apart and destroying our world. The natural world is just waiting for us to emphasize forgiveness over fighting, gratitude over greed, and bring our relationships with each other and our earth back into balance."
"Our traditions believe that a better world is probable, not just possible."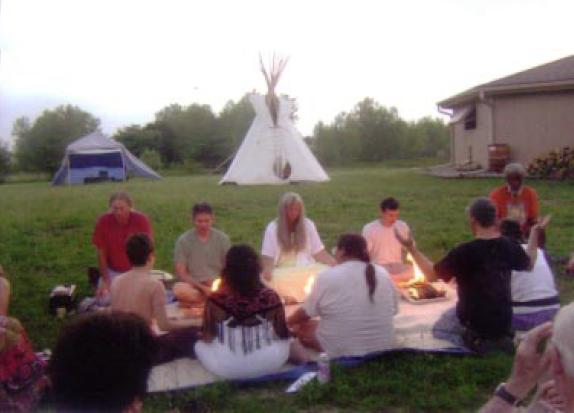 Friday evening we arrived and did Agnihotra together with Agnihotra teacher Maria Barta and her friend, Ron, who came from New Mexico for the event.
On Saturday we attended a traditional native american pipe ceremony, then set up a Yajnya area under a canopy. The five of us took turns performing Om Tryambakam Yajnya until about 6 p.m. that evening about. 25 people joined us for Agnihotra. Almost none of them had heard of Agnihotra before.
We gave an introductory talk, explaining its inputs, effects, and how it is performed. Several people commented that they could feel the power and energy of the fire; one woman said she just felt love. A small group joined us for Sunday morning Agnihotra, and about five people stopped by to learn Agnihotra and get supplies before we left. Henry, Tom, Maria, Ron and I are grateful to have had this opportunity to share Agnihotra.