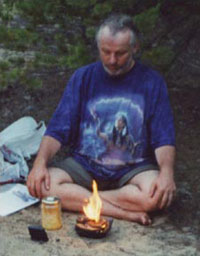 Benedict from Moldova had informed me about a conference of the Anastasia organization in Gelendjik, South Russia (on the Black Sea).
Anastasia is a woman who lives in Siberia in the forest far away from all civilization. Even in winter she lives in natural caves and she just eats what nature offers her. There are books available now on her life and her mission, written by Wladimir Megre, who met her few times over there. Anastasia mentions the big changes which are going to come.
She strongly suggests to change totally today's life-style – moving out of the big cities, every family should get one or two hectares of own land, build some house from natural materials, grow their own food and become self-sufficient (in collaboration with the neighbours).
All this sounded very familiar so I decided to go to this conference. Benedict and his family also came and we met in Gelendjik on Sept. 27, the first day of the conference.
More than 500 people had come to the conference, from all the different parts of Russia and Russian speaking countries. In the afternoon I got the chance to talk about Homa Therapy. I started to emphasize that we share so many ideas with the people of Anastasia organization.
Vision of Anastasia is fine – but even if today all population would go for the lifestyle she suggests (which, of course, will not happen – cars will still run tomorrow and factories will still continue to send out all different kinds of pollution), even then there is already so much of all different chemicals and poisons in the atmosphere to destroy whole nature. (the natural disasters of this summer made the disorder of nature obvious to everybody – floods in many countries of Europe, in Russia, Asia etc.)
So we have to do something in order to purify our planet on all the different levels – atmosphere, soil, water resources in order to neutralize the effects of pollution.
People were listening very carefully – they realized that our message is an ideal tool to help them make their own vision come true.
Of course they wanted to see Agnihotra. But, alas, in the lecture hall it was not possible (as this was a theater and open fire was absolutely forbidden). So the only possible time was Agnihotra next morning.
When we went there before seven o'clock I told Benedict that I did not expect people to come – so early (the beginning of the conference was 9 a.m.) and these people do not have cars, they have to walk for twenty or thirty minutes and more.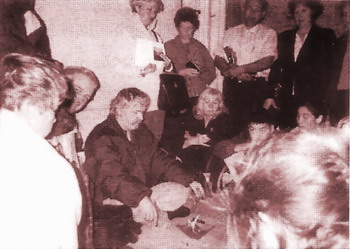 Morning Agnihotra outside the lecture hall
But when we arrived at the place there was already a group of people waiting. And before I started to prepare the fire a lot more came – altogether it was a group of maybe sixty people who came especially to see their first Agnihotra.
Of course, after that many people bought the book – Homa Therapy Our Last Chance which has been printed in Russian language two years ago. And pyramids – so in the end I did not have enough pyramids for everybody who wanted one. This was really sad. (In planes they allow only 20 kg. I brought 60 pyramids to Russia, half for Moscow area, half for Gelendjik. 60 pyramids only possible if you put half in your hand luggage and if they do not check the weight of your hand luggage.)
So I even gave the pyramid which I used to one lady from Kazakhstan. I asked her to come on my last day in Gelendjik for morning Agnihotra. Again she had to walk more than one hour to get to one guest house. But she told us that normally because of arthritis walking was a big problem for her. But now just after attending three times Agnihotra and taking little Agnihotra ash it had become much better!
From Gelendjik I went back to Moscow where I met with the old friends from Whole World Organization whom I had met during the summer camp. We did Agnihotra together and I gave a small talk. Also some new people had come and wanted pyramids (in Moscow I still had some).
Also we talked about the problem of radioactivity. There was some information that all food is being tested for radioactivity before it is allowed to enter into the Moscow area. We are very much interested in the methods to test radioactivity as the ancient science of the Vedas states that through Agnihotra and Agnihotra ash the effects of radioactivity can be neutralized. But, alas, nobody could find out definite information about the methods being used. So I asked them to inquire again which they promised to do. Of course, radioactivity will also be a very important subject during my talks in Ukraine by end of this year.
From Moscow I went by bus to Wladimir, a small historical town East of Moscow (which even was the Capital of Russia before Moscow took over). One lady from the camp, Marina Duplischeva, was already performing Agnihotra there and she had invited some friends to attend evening Agnihotra and a short lecture. Every family who came took back a pyramid and the Homa Therapy book in Russian. And when I mentioned that we should start producing our own pyramids in Russia one man, Sergey Bragin, said he knows people from one institute who can produce these pyramids and also they can make the necessary dies first. So this was really good news – no longer trying to check in with 60 pyramids and a lot of overweight luggage! Next day we visited some old places in Wladimir and Susdal, which was a deep personal experience for me.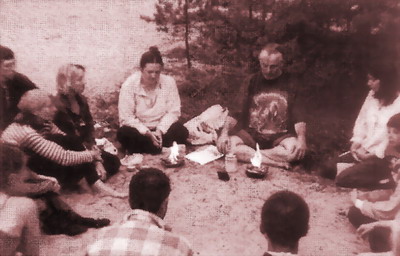 Summer camp on an island in the Volga River. Marina from Wladimir and me doing Agnihotra