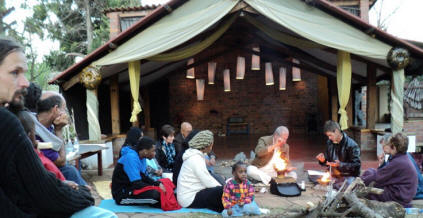 Dr. John Matlander sent this report about his Homa trip to Zimbabwe:
In June, Ms. Peta Searle invited us to Zimbabwe. She organized a program of 14 days (June 08 to 25) for the dissemination of Agnihotra in Harare, capital of Zimbabwe.
Zimbabwe is a small country in southern Africa, landlocked, with 11 million people and is bordered by South Africa, Mozambique, Zambia and Botswana.
The visit focused on the outskirts of Harare, except for the Kufunda Learning Center, which is 45 kilometers south of Harare.
We stayed at the home of Mrs. Peta and her husband Simon, who kindly took us to different places to present and teach the Homa healing fires.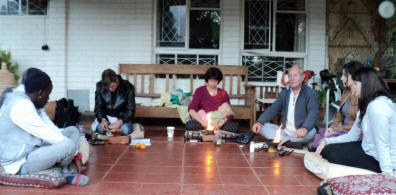 (Photo above: Sunset Agnihotra in the house of Simon and Peta Searle with participants who only recently began to practise Agnihotra.)
We met all kinds of people, from farmers to yoga instructors and students and we were warmly welcomed everywhere. Due to economic conditions people are developing their own gardens, which was a wonderful surprise for us, and they were very interested in Homa agriculture.
We spent a couple of days with the lovely people from Kufunda Learning Center. Kufunda is a farm, as well as a learning center with students from different parts of Zimbabwe for training in organic farming workshops and other disciplines. People showed great interest in the Homa agriculture workshop.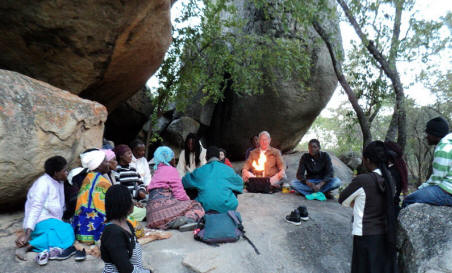 "Kufunda Learning Village" opened the workshop with singing and dancing.
In Kufunda we performed Agnihotra in the shade of a group of granite rocks in perfect balance, which is a very common sight in Zimbabwe (pictured above). You can feel a lot of energy in this environment. In ancient times, this site was a ceremonial center. About 10 kits were purchased Agnihotra and Agnihotra kits are being sent to all interested persons.
As we were short of time, we could not accept invitations to teach Homa in other parts of the country. This activity will be scheduled for the next visit.
(Photo below: The final Agnihotra of our trip to Zimbabwe in the house of Dot Nakling in Monovale with people from the outskirts of Harare.)