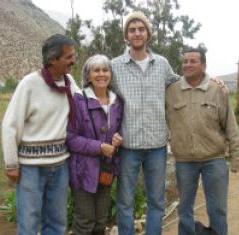 What is HHOOF? HHOOF is an acronym for Homa Helpers On Organic Farms. This is a spin-off of Willing Workers On Organic Farms, an organization that links volunteers to organic farm hosts. Volunteers work in exchange for room and board and the opportunity to experience farm life. A Homa farm is a very specific type of farm that incorporates Vedic healing fires, vegetarian diet and ahimsa (non-violence) practices that create a unique experience for the volunteer. They blend the physical, social and spiritual worlds into one interconnected happening.


I first came to know about Homa fires and farms a year after finishing high school while backpacking in Australia. I wanted to be away from the cities and close to nature and through WWOOF was given a listing of farms and rural properties across the country that I could visit. I read about a place where Vedic fires were being performed to heal the land and purify the atmosphere. I was intrigued and curious so I called the number listed and arranged to come for a one-week stay.
This is how I came to Om Shree Dham, a Homa farm of many years, nestled in the beautiful Hunter Valley of New South Wales. When I arrived I was thrilled by the beauty and peace of the place. I was happy to meet and make friends with the welcoming host family, Lee and Frits Ringma and their children. My intended stay of one week turned into three, and after a few comings and goings and a trip back to Canada I returned to spend nearly a year on this Homa farm Down Under.
More than four years later I have visited and lived on Homa farms and centers around the world. In India, Europe, United States and South America I have sought these places out and now would like to share some of my experiences with you, the reader, to give an idea of what is possible through Homa travel.
I have been a lover of nature and the outdoors all of my life, and fond memories of childhood summers spent on my uncle's farm in northern Ontario left me with a desire to learn how to live a life close to the land. I have learned many of the things I needed to through HHOOFing: farming, gardening, caring for and milking cows, pruning of fruit trees, growing and wildcrafting medicinal herbs, property maintenance, carpentry, vegetarian cooking–I have learned all of these during my stays.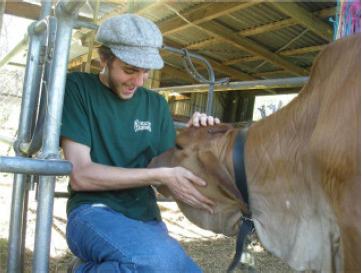 Although these are all valuable and worthwhile skills and reason enough to spend time as a HHOOFer, they are not what continues to bring me to Homa farms. It is the atmosphere that draws me–a peace I feel as soon as I step onto the land, something that resonates and speaks to the depths of my being and makes me feel at home.
This I attribute to the Vedic healing fires performed daily at Homa farms. They are the purpose, foundation and reason these places exist. Proper timings, Sanskrit pronunciation, the ingredients and performance of the fires, Agnihotra being the first and most important fire, can be learned at any of the centres from qualified, long-time practitioners of this ancient healing science. A Homa farm is the perfect setting in which to learn Agnihotra, as the atmosphere is already permeated by the effects of fires done over years in one place. This creates a deeper and more powerful experience of the fires. To stay at a centre can be a transformative experience. The fires provide us an atmosphere that nourishes and encourages self-development.
Nature seems to live in all her vibrancy in Homa atmosphere. At every Homa farm I have visited I have found the same to be true. I love to spend moments listening to the wind through the tree-tops, to the calls and songs of the birds, the hum of insects and all the workings of the natural world. In my spare time I swim in the cool and clear rivers of Chile or the sacred Narmada River of India, walk through the rolling hills of fields and forests of Poland and Switzerland, and hike through the Australian bush. It seems these farms are always in places full of nature's beauty and wonder.
It is no wonder the people who would choose to live in such a place would reflect its qualities within themselves. In the way I find myself resonating with the land, I also find I resonate with the people of the land. Around the world there is a unique and diverse blend of people doing fires in all continents — different in culture, race and language, alike in the things of the heart. My closest friends I have met on Homa farms. For the volunteer staying with a family or a larger community, such as the one at Bhrugu Aranya Eco-Village in Poland, a lot can be learned about working and living together. Cooperation, communication, service, respect and kindness—all these develop if only the desire to help is within the volunteer. We learn ways to work together and support each other, to give and to serve.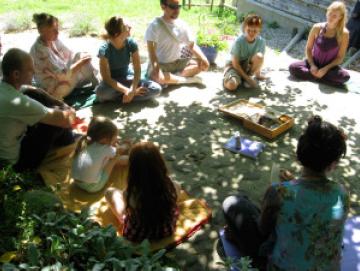 I have found the creative arts to be effective aids in community living, and they can be found at most Homa places. Music, art, dance—all these things help to uplift us and bring us closer to each other. Bring an instrument and don't be shy!
A volunteer will have his or her ups and downs during a stay. That is natural. And it is natural that you will relate more to certain people than to others. Difficulties and differences may come up at some point. Reach out and open up to others and work through the challenges you meet. These help us in our self-development and are good reminders of what we need to work on.
I think HHOOFing is a learning experience in the broadest sense. We learn skills that we need to live close to the land, we learn about ourselves and about others, we gain new impressions. I feel that the most important lessons I have gained during my trips can't be put into words. They are lessons that live in my inner world, lessons of peace and joy, of growth and harmony. I write this article in gratitude and I hope it inspires others to go out and experience this alternative way of life, a way different than that which our societies have chosen for us–ways that are holistic and sustainable, that will move us forward into a future with hope. I believe this is what Homa farms have to offer us.