In Cochiguaz (small village of 200 inhabitants) lives and works Medical Dr Fernando Aguilar (left) who has the Homa Medical Center.
He and his mom (Mari Fuentes) are in love with the Homa fires and other natural healing methods (phyto-therapy, acupuncture, crystal sound bowls, etc).
They are very successful.
The photo below was taken during the Agnihotra in the Homa Medical Center Cochiguaz with friends and patients. Dr Fernando is second from left.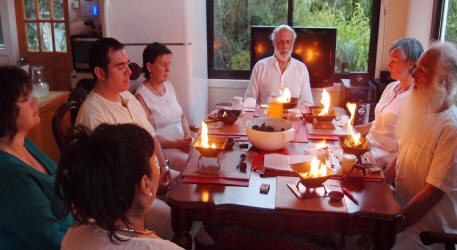 Next photo below – sharing Homa world news and successes in diseases such as depression, AIDS / HIV +, Parkinson, Infantile Cerebral Palsy, Diabetes, etc.