Juan Rodriguez writes:
With Homas, Biosol Gloria and much Love we are achieving a vegetable harvest which is abundant, nutritious, beautiful and healthy.
On Full moon (30th of June) we could share very special moments with Christa's Yoga group from Puerto de Santa Maria, in chanting the Om Tryambakam together.

We cultivate the veggies in so called "Jean Pain" gardens, where a favorable microclimate is created for the growth of the plants.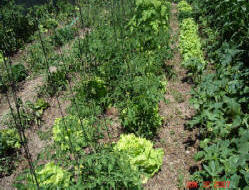 Following our beloved Master Shree's suggestions, we enjoy singing and making music with percussion instruments in the Homa atmosphere, which awakens our musical creativity.