Wonderful meeting with over 50 Agnihotra fires in Jalgaon thanks to the organizing talents of Mr. Devidas Wani, Mr. Jitubhai Kutmutia, Mr. Shamkant Chinchole, his wife Ujwala, Anne and Bruce from Tapovan and many other helpers.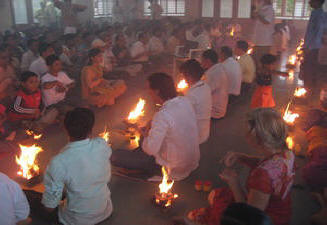 Homa Therapy was presented to many new people with Health Testimonies from all over the world and also they heard about the spectacular Homa Farming results. One of the speakers, Mr Himmat Chaute, an Ayurvedic doctor, talked about his surprising results with Homa Therapy in his patients. Many pyramids found new owners at this meeting and so the LIGHT is spreading.
In India many people know Agnihotra since childhood; their grandparents practiced "Agnihotra Puja", but it is very important to mention, that the Agnihotra of Homa Therapy has its miraculous results on all levels because it is done precisely to the second at sunrise and sunset. It is a scientific approach to Healing through manipulation of LIGHT and SOUND.