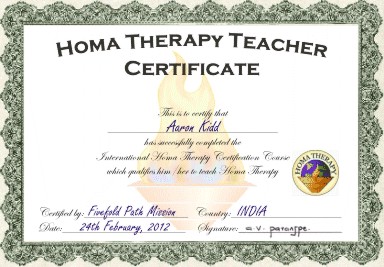 The first Homa Therapy Teacher Certification Course in Europe was held at Ecovillage Bhrugu Aranya, a Homa organic farm community in the picturesque mountain region of southern Poland. The classes began on September 9, 2012, the 16th anniversary of the Parashuram Fire Temple at Bhrugu Aranya.
Asia Maher, Maria Kalisz, Suwindi Kadir, Luz de Luna Kmita, Rory Maher, Katherine Sawyer and Taylor Logsdon were certified by Fundacja Terapia Homa (Homa Therapy Foundation of Poland).
Led by certified teachers Jarek Bizberg, Dr. Ulrich Berk, Parvati Rosen-Bizberg and Dr. Barry Rathner, the intensive 20-hour 5-day course covered all aspects of Homa Therapy including Agnihotra Ash medicines, How to Teach to Various Audiences, Homa Organic Farming, Resonance Points, Self-Development and Homa Psychotherapy. A detailed explanation of the scientific aspects of Homa Therapy was made clear and interesting to the students.
The international representation of the graduating class–Irish, Mexican, Canadian, Australian, American and Polish–seemed appropriate, as the students were treated to overviews of current Homa Therapy events around the world, a global Homa community.
That the program was conducted at Ecovillage Bhrugu Aranya seemed especially significant as the four teachers reside here, and the groundbreaking for the center's international guesthouse/workshop building, "Centre of Light," is imminent. Future Certification programs held here no doubt would be held in the "Centre of Light."
As Bhrugu Aranya may be thought of as the hub for the spread of Homa Therapy and Agnihotra throughout Europe, to have hosted such a special program was both a pleasure and an honor for all involved.
The Homa Therapy Teacher's Certification program, initiated under guidance of Shree Vasant, is meant to preserve Shree's teachings and establish consistent standards for Homa Therapy worldwide.
Frequently Asked Questions is a pertinent section of the course, where all types of questions teachers often hear are addressed. During this section, all the students received index cards with a question. Each student got an opportunity to give the answer. It was a fun exercise, one which they won't easily forget.
The course was also experiential. Agnihotra Ash medicines were actually prepared in the class.
During the Homa Organic Farming segment,
everyone took a tour of the farm, seeing how the
principles are put into action. During the Self-Development segment, students were given an exercise in Swadhyaya, with the focus of finding and fulfilling one's higher purpose.
Teachers and students enjoyed and benefited from lively discussions and an atmosphere of camaraderie. All appreciated the emphasis on learning to 'walk the walk, not just talk the talk'–that is, to strive towards becoming positive examples of the teachings of Homa Therapy and Fivefold Path.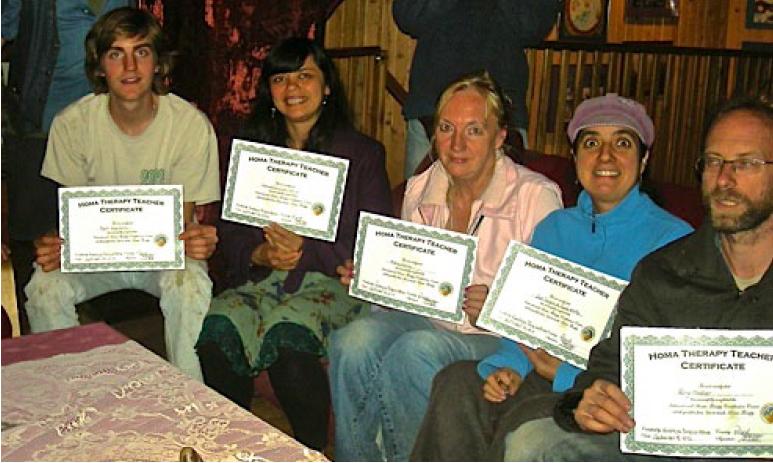 Five of the seven new certified Homa Therapy Teachers: (from left) Taylor Logsdon, Canada;
Suwindi Kadir, Australia; Maria Kalisz, Poland; Luz de Luna Kmita, Mexico; Rory Maher, Ireland/UK.
Missing from the photo are Katherine Sawyer, U.S.A. and Asia Maher, Poland.