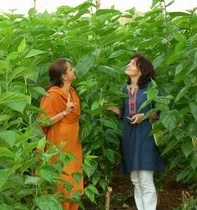 Mrs Asha Tejasvi Naik is the recipient of the prestigious ASPEE L.M. PATEL "FARMER OF THE YEAR" Award in the women farmers category. This is a national level award and carries a cash prize, trophy & citation.
The award was presented to her by Prof M.S. Swaminathan, eminent scientist, member of Rajya Sabha who is widely recognised as the father of GREEN REVOLUTION IN INDIA, at a glittering ceremony held on 1st January, 2012 at University of Agricultural Sciences, Navsari in Gujarat state. (photo below)
Mrs Asha Naik from village Modaga, Tal. & Dist. Belgaum is a Homa Organic Farmer practising sericulture for the past 15 years. She has 3 hectares of land under V1 mulberry cultivation.
Mrs Naik does not use chemical fertilizer or pesticides and is a certified organic farmer and is actively involved in preserving bio diversity and soil health. She uses leftover mulberry sticks as mulch and also litter to produce compost manures. By practicing Agnihotra Homa farming techniques she has benefitted the most in eradicating pest and diseases and also the atmosphere in her farm is pure and filled with positive energies created by the Homa. She rears 6900 dfls (disease-free layings) and produces 5.5 tons of silk cocoons yearly.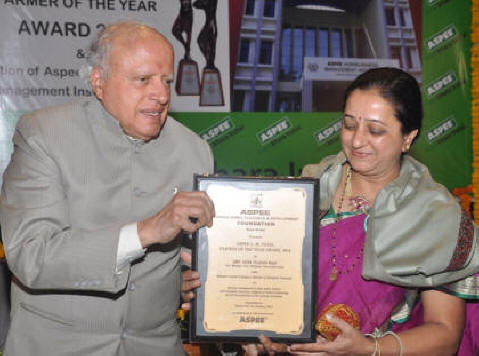 She was also the recipient of the SHRESTA KRISHI MAHILE AWARD 2007 from the University of Agricultural Sciences, Dharwad, Karnataka. She is a member of Organic food club. She is also invited as a resource person and also a speaker and trainer for various events related to sericulture and floriculture.
She has a very relevant message to the farming community "think big, become big. Be self sufficient and self reliant by using available resources on the farm. Add value to your farm products and your earnings will rise fourfold."
She also cautions the school syllabus writers to edit the words
"ONCE THERE WAS A POOR FARMER" from the texts as these words will discourage young minds from becoming well-established and prosperous farmers.