Homa Therapy News

Australian and International Nov 2019
Agnihotra coming to Community Gardens
Plant Rescue with Agnihotra
Thriving Homa Biosphere Tasmania
Restoring Positive Outlook, Improving Academic grades
Resolving Relationship issues
Responding to Life with Trust and Centredness
On Healing Addictions and Meditation Made Easy
Scientific Validation: Effects of Agnihotra and Agnihotra ash on soil
Om Shree Dham, Homa Therapy Centre Australasia
AGNIHOTRA COMING TO COMMUNITY GARDENS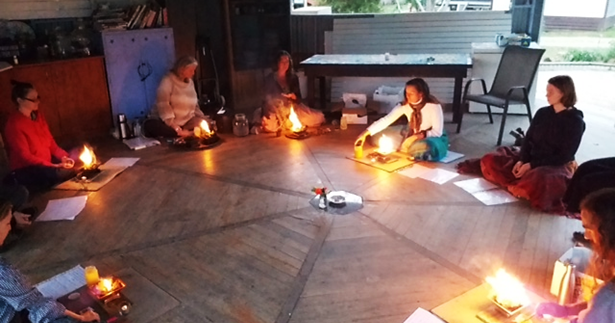 Zanetta (Kel Wilson) facilitating Agnihotra at Mullumbimby Community Gardens, Northern NSW
Zanetta- "In June this year I was asked to come and do Agnihotra at the Mullumbimby Community Gardens.
They invited me specifically for Agnihotra as they needed the assistance of the fire to shift the energy at the Gardens. After the Agnihotra had finished, all expressed a lot of relief, and over the next month many beneficial changes were created in the whole way of running and organising the place.
I did Sunset Agnihotra about three times over those first couple months .Then at the end of July I started doing Agnihotra once a week, and it has had an amazing effect on the whole of the gardens, many people noticing and feeling the changes in energy remarkably so!! We are saving the ash for the gardens, and it is already in the water tank and have started putting it in the soil with new plantings.
It is always so exciting to feel the magic and healing of Agnihotra, and I feel very blessed and privileged to be welcomed to perform and to teach Agnihotra to those interested to perform it themselves.
Big love and many blessings to all," Zanetta
PS at least 6 people involved with the Community Gardens are performing their own Agnihotra now.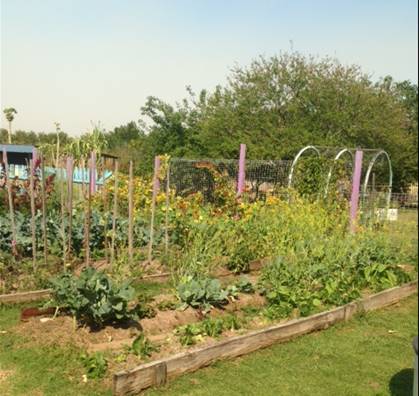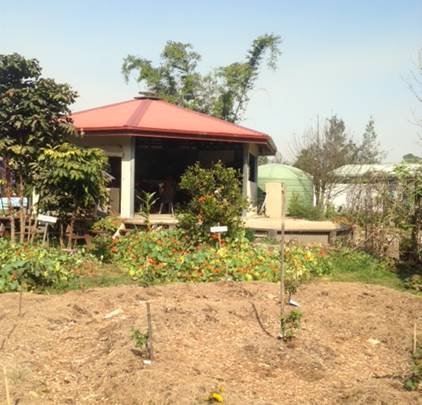 Above – Mullumbimbi Community Gardens
PLANT RESCUE WITH AGNIHOTRA
Carolyn Wilkinson, long time Agnihotri living in the Northern Territory "I live in the tropics of Northern Australia. I have been practicing Agnihotra since March 2012.
I love it. Just recently I decided to do some plant rescues inspired by 2 sick little succulents I found in a big green shed.

It was like these 2 knew I'd help them….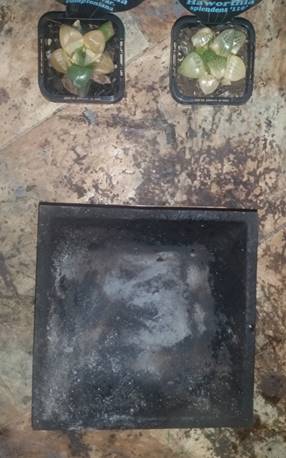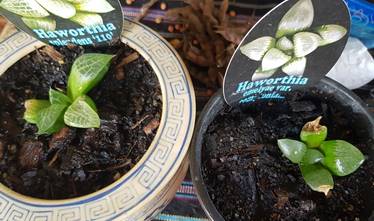 So I brought them home and put them next to the Agnihotra pyramid
Next day after the evening and morning fire I watered them with ash water and watched them go green again. I threw ash on them too then watered it in. The results were almost immediately noticeable.
Over the weeks they just went from strength to strength. You can see the results for yourself:


I am continuing experimenting with Agnihotra and plant rescues whenever I get the opportunity.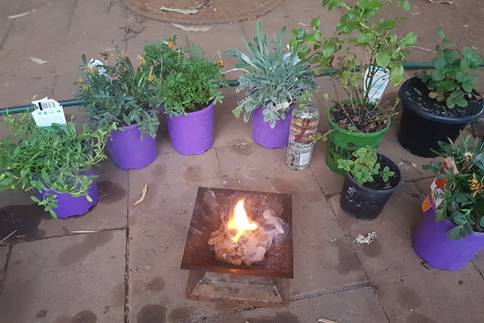 Happy plants rescued by Carolyn
THRIVING ORGANIC FOOD GARDEN IN HOMA BIOSPHERE, TASMANIA
Theresa Daley- "I have been practising Agnihotra for the past thirteen or so years. I was studying flower essences in Melbourne and the class was invited to attend an Agnihotra demonstration by Lee and Frits Ringma of Om Shree Dham (NSW). We arrived a little late and so missed the Agnihotra demonstration. My friend at the time and I quietly took our seats on the ground around a large bonfire, Lee and Frits were performing Om Tryambakam Homa. I closed my eyes, I let go and relaxed. When I opened my eyes I saw that the flames of the big fire were a distinct purple colour. Surely I was tired, surely the flames were not truly purple. I closed my eyes gently with a purposeful intention and opened them again. Each time, same thing, purple flames. This I took to be an omen, a guide that Agnihotra was for me. I didn't know why, but I could not help but trust the purple flame omen.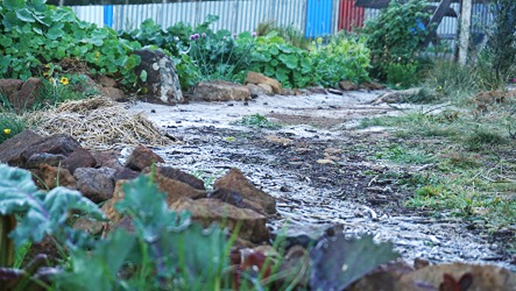 Frosty morning in June at Theresa's property
It took a few months to perfect the simple procedures that performing Agnihotra requires, for the most part it was getting the fire to catch on time that took the most practise. In the years I have practised Agnihotra I have never seen purple flames again, but I've felt other changes. Performing Agnihotra in my experience facilitates positive change. It gently holds and opens the space for inner peace to grow, for communication with the Devic Kingdom to blossom, for old wounds to heal in the most gentle of ways. Agnihotra is a friend, a really wonderful friend.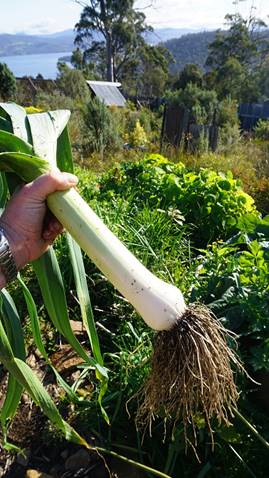 Self-seeded leek
Personally I have experienced Agnihotra's 'bubble' (Homa Biosphere) around my property. Once a Willing Worker on Organic Farm (woofer) lamented as we drove off the property to drop her at the bus stop that she feared leaving the bubble. I'd never even mentioned the bubble to her.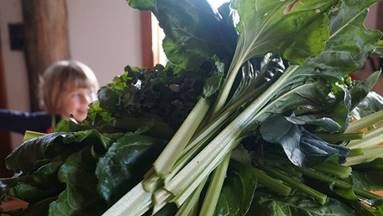 Lunch harvest with Honey (Theresa's daughter) in background
Regards gardening: I sprinkle ash into the garden beds as I prepare them. Of course the energy of Agnihotra is in the biosphere. I also add ash into medicinal plant mixes, such as with wood ash from the fire to get rid of the pear and cherry slug.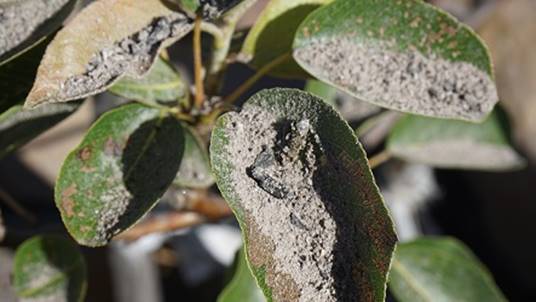 Wood ash mixed with Agnihotra ash as a remedy against cherry and pear slug
My vision for natural beauty has become sharper, I notice the colours in sunsets more, I hear the chorus of birds more clearly at sunrise. My heart is opening, and opening and opening. Agnihotra has not done this in alone, I don't think. But it has facilitated all this and more. It is the conductor in the orchestra of Divine Energy that plays out in a million, trillion different ways. It waves its baton with infinite wisdom. It is at the service of the Divine and it helps to, ever so gently, so gently I barely notice it happening, facilitate healing. It is no magic wand, not at all, but it conducts magic in the best, most perfect way possible. It is Grace in action."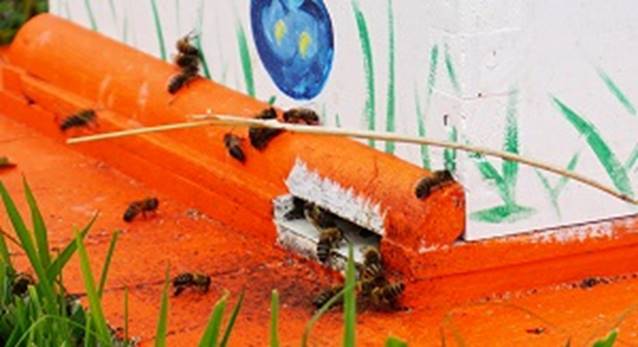 Bees and creativity thriving at Nala Pakana, the name of Theresa and family's flourishing property at Garden Island Creek, Southern Tasmania.
RESTORING POSITIVE OUTLOOK, IMPROVING ACADEMIC GRADES
Tanya Marquardt lives on an organic property at Dark Corner West of the Blue Mountains NSW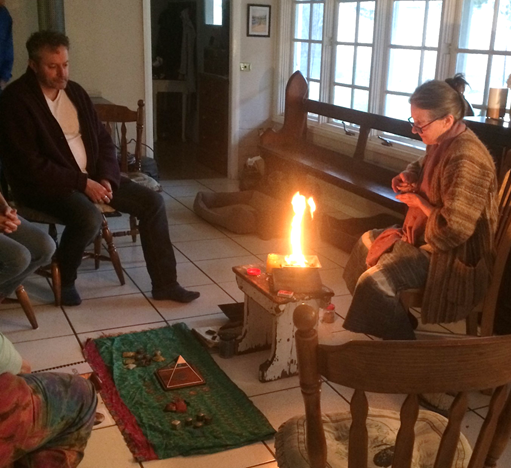 Agnihotra Workshop at Tanya's home on 24th of Sept. Since then Tanya has been performing regular Agnihotra. She is experiencing incredible positive changes in a short period of time.
Tanya: ""I was having a lot of personal and work-related issues last year. I just started learning yoga and meditation. A lovely friend came up to me with a "post-it" note and wrote one word, "Agnihotra". He said google it and let me know what you think. I had never heard of the word. Eventually, I found Frits and Lee's website and Om Shree Dham Farm. I fell in love with the whole lifestyle and the effects of Homa Therapy. After a few weeks, I booked a workshop to be held at my property on the 24th of Sept, made time to head up the coast, and paid a visit to Om Shree Dham. I wanted to experience Agnihotra. I arrived just before 3 pm. I have been learning to be organically sustainable for some time, so I knew a few things, but Homa Therapy was what I needed not just for my farm, and ourselves but for the environment. I could feel the life energy force around me while visiting Om Shree Dham. Lee juiced some oranges grown on the farm and honestly, it was the best juice I have ever tasted and will sit in my memory bank forever. During and after sunset Agnihotra, I was starting to feel my peace and felt so vitalised after the experience.
After Lee and Karen visited and conducted the Agnihotra workshop, where 2 of my neighbours also took up Agnihotra, I started performing regular Agnihotra. I notice that I feel so much better in myself and my confidence is coming out and even people have noticed………….Another thing that has happened is this: I have been studying for 2 years and have consistently just passed. Since performing regular Agnihotra I am getting distinctions. Also around our yard is beautifully green and the trees are growing. I have placed some ash around our cabbages and they are doing really well and will be placing a bucket of ash in the dam very shortly. I use the ash for my health, place the ash in our gardens including 120 fruit, nut trees, bees and give it to our beautiful pets.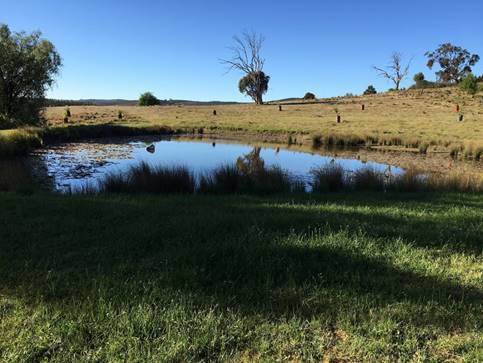 Spring fed dam on Tanya's property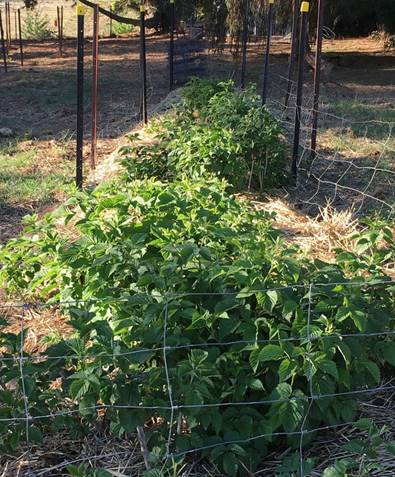 Thriving Raspberry Patch
I have been performing Agnihotra for a couple of months now and notice my outlook on life is positive, our farm is flourishing, and I have hope for a healthy environment, including peace and goodwill to all." Tanya Marquardt
AGNIHOTRA HAS HELPED TO RESOLVE RELATIONSHIP ISSUES AND HEALTH ISSUES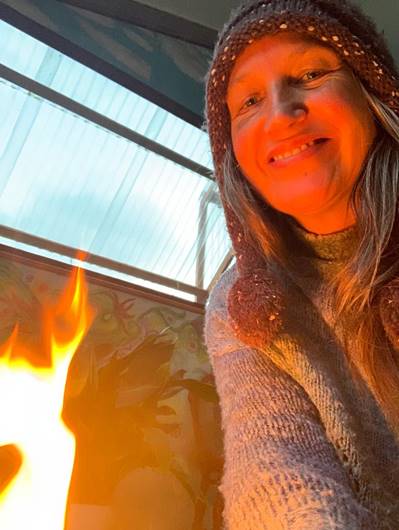 Sonya Dorant, Margaret River, Western Australia
Sonya: 'Agnihotra meditation has been keeping me on the path of feeling connected and healing for quite some time, it is my go to for a deep meditation and letting go of the dross most sunrise and sunsets.
Recently I had a few health and relationship clearings and healings especially these last 5 months. And with the chaos that life has been willingly bringing me, I have been willingly accepting for clearing old patterns and beliefs, I can feel Agnihotra … lovingly pushing me forward to let go of the pain and to feel and connect to the Divine internally.
I drink the ash every day and also have had a complete turnaround with my health concerns and I no longer need surgery!
When people come for a session they sometimes comment on how the gardens have this incredible energy about them and they are so drawn to its magnetism but they can't put their finger on 'it' and what it is? They also notice the garden is always vibrant and growing quick and often blossoming. I just smile with much gratitude and when we sit together and do Agnihotra the flame is so big, it confirms every time, with this beautiful visual reminder too, how powerful and loving the energy is. Blessings Lee and Frits for your dedication and support. Warmest wishes" Sonya, Margaret River. info@bodyblissmargaretriver.com.au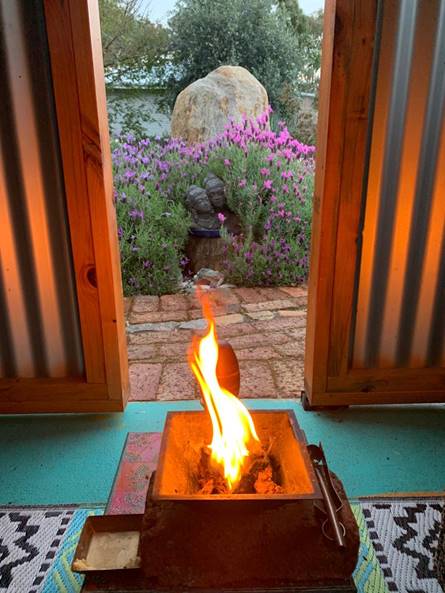 Sonya's Agnihotra Fire inside the door of the Retreat Centre 'BodyBliss' and vibrant garden outside.
RESPONDING TO LIFE WITH TRUST AND CENTREDNESS
Bhalchandra from Sydney: "We (my wife Swapna and I) have now been performing Agnihotra since May 2018 (past 17 months). We miss the evening one on week-days based on work requirements. But try to practice it as much as we practically can.
Our personal experience has been very pleasant so far.
The main advantage I feel is it prepares one for any situation in life. The very purpose being the wellbeing of the whole universe removes any desires of personal material benefits from one's mind. Once you do something without any desires of individual benefit, it lifts you to a different level I guess.
Some of the practical benefits that I have observed are:
Discipline – You have to follow exact sunrise and sunset times for performing Agnihotra. This brings discipline in your life. To wake up early, you need to go to bed on time. More you observe the benefits of this lifestyle, the more you want to follow discipline, and not give up the practice.
Health – I had plantar facia and used to apply the Agnihotra ash to my feet. This in conjunction with few sessions with a specialised doctor has improved the conditions a lot. I have started long walks every day without any pain. I even plan to go to Kailash Mountains next year. We put the ash in drinking water. I feel healthier in terms of less (if not none) cough, common cold, fever, flu etc. My wife has migraine and few other ailments and we are working on them with the help of Agnihotra ash.
Peace of Mind – The fragrance of burning cow dung and the sight of the Agnihotra fire calms one down and feels more relaxed and confident.

I have lost my job a couple of times and could handle this situation with maturity and rationally. I contribute that to my changed lifestyle of meditation, Veda chanting and Agnihotra practice.
In general, our demands from life are reducing day by day. We are feeling happier and contented in what we have. We are (I feel) demanding inner peace and happiness rsther than material benefits from life.
Our son is young and comes with all the package of a teenage boy. Although I am OK in handling him, my wife gets stressed when he comes home late or misbehaves sometimes. With increased Agnihotra, meditation and Veda chanting, I feel she is being able to keep calm during such situations. Even our son seems to be growing more mature and behaving well day by day although he himself does not participate in daily Agnihotra. There seems to be better dialogue within our family as days pass by.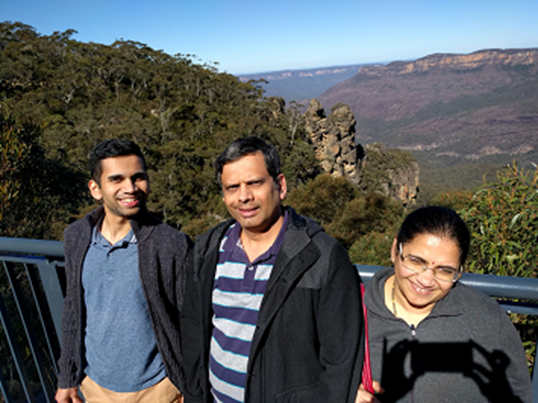 Advait, Bhalchandra and Swapna Joshi (Photo taken in Blue Mountains, NSW Australia 2019)
We visited the Homa Farm in Hunter Valley on the last day of Diwali (28 October 2019). We really enjoyed our stay at Om Shree Dham. Lee and Frits were very friendly and we felt at home almost instantaneously. We were pleased to have the company of their dog who is just like a family member. We had some quiet and quality time at the farm doing Agnihotra, Om Tryambakam and Vyahruti Homa with Lee and couple of other marvellous ladies who stay with them at the farm. Lee also showed us the upcoming Centre that Frits is building just about single-handedly. He is just amazing. We were really touched by Lee and Frits' simplicity and dedication to the cause. They have been living this life for past so many years!" Bhalchanda, Swapna and Advait Live in Sydney and took up Agnihotra after attending a workshop by Lee and Frits in May 2017.
AGNIHOTRA REGULARLY PERFORMED AT A SHELTER FOR PEOPLE IN NEED

Performing Agnihotra at Sevadham Aashram, Ujjain, India
Sewadham Ashram is a lifetime shelter and rehabilitation centre for the homeless, helpless, differently able, mentally ill, dying and destitute people. At their centre, they serve more than 600 people. Agnihotra is regularly performed at the centre as a healing method.
ON HEALING ADDICTIONS AND MEDITATION MADE EASY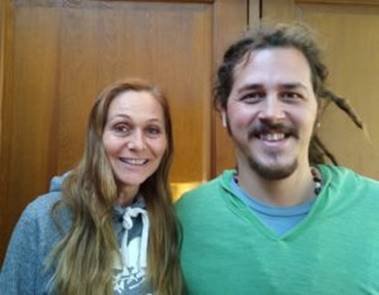 Giri Bek and Govinda Yogi
Florida, U.S.A.
Giri Bek is a Certified Transformational Breath® Trainer, Certified in Yoga Nidra, Chakradance and Yoga of Recovery.She is a Registered Holistic Nutritionist, and an E-RYT 500, having completed her trainings in the Sivananda tradition.
Govinda is a is a graduate of the Sivananda Yoga Teacher Training Course, Transformational Breath Facilitator, Culinary Graduate, Certified Yoga Teacher and Reiki practitioner.
They offer private and group sessions, and retreats for healing and transformation.

Govinda Yogi: "We moved to a property that had a lot of old fruit trees on it and there was one 20-year-old avocado tree. The tree was injured, and someone had tried saving it. They wrapped some foil tape around one of the big limbs. The tape had been on there for quite a long time. I took the tape off and realized that it wasn't really healthy at all. I took ash from the Agnihotra fires that we were doing and I placed it on top of the wound. Within three months it looked a lot better. In about six months it was completely healed, and the tree was starting to produce. It hadn't produced in many, many years. There were about a hundred avocados growing!
In my life I have felt so much healing energy flow from the Agnihotra pyramid, helping me with addiction and craving, to balance my day. My drug of choice was marijuana and I had this routine of abusing the drug. When doing the Agnihotra fire I was able to still have the fire and smoke, but on a much more positive level. The fire grounded me and cleared my mind, unlike when I would smoke marijuana, which clouded my mind and made me unbalanced. I'm very honored to be able to have Agnihotra on my path."
Giri Bek: "Sometimes Govinda and I have weekend retreats geared towards people in recovery or perhaps wanting to be in recovery. Many of the students have expressed that meditation was very challenging for them–that their minds were racing. They had difficulty calming down. One of the things that the students said helped the most was the Agnihotra fire. Afterwards, we spend some time in meditation. All of the students said their minds were so clear and calm and they were actually able to meditate.
In my own life, I have also found this to be true. I have been in recovery from addiction for over twenty-five years. I have had all kinds of addictions and mental health problems: alcohol, opiates, benzodiazepines, barbiturates and eating disorders. On this healing path, I have seen many people benefit from the healing of Agnihotra."
SCIENTIFIC ASPECTS OF AGNIHOTRA
Effects of Agnihotra and Agnihotra ash on soil
By Dr. Ulrich Berk, Germany
Let us look at how Agnihotra/Homa Therapy aids the soil- the substance on which the vast majority of our nourishment depends. We have seen how Agnihotra purifies our atmosphere and the water resources. Now let us have a look into the effect of Agnihotra on soil. Mostly people are not aware of how important soil is – although it is obvious that our lives depend on the thin layer of topsoil as we all feed on and most plants need soil for growing.
Conventional chemical farming has led to a degradation of our soil on large scale.
With Homa Farming techniques this degradation can be reversed and healthy, productive soil will be restored, on which healthy plants will thrive.
When you perform Agnihotra and the other techniques of Homa Organic Farming, the following are the effects on the soil:
Aeration is increased.
Moisture holding capacity is increased.
Both acidity and alcalinity are controlled.
Salinity is removed.
Beneficial microbes prosper.
Earthworms multiply at a higher rate.
Some of these results have just been confirmed by observations. E.g. it was found that in Tapovan, a Homa Farm in India (the only place we know of where continuous Tryambakam Yajnya is going on for many years), in a very dry summer you had to dig half a meter deep to find moisture in the soil. On neighbouring lands you had to dig one meter deep!
Regarding other points scientific studies are available. One was done on one farm with highly alkaline soil, pH was 9.86. The land was divided into three plots. One was cultivated conventionally with agrochemicals; second plot was cultivated organically, using vermicompost; and the third one was cultivated organically with vermicompost and Agnihotra Ash. After only one season – approximately three months – you see that conventional farming did not change the pH, organic farming brought the pH a little bit down, but Homa Organic Farming nearly brought the pH back to nearly normal – IN JUST THREE MONTHS!
Interesting is that on the other hand with highly acidic soil, Homa Organic Farming brings the pH up as we have seen in Bhrugu Aranya, a Homa Farm in Southern Poland. Before Jarek and Parvati started farming there a government agricultural engineer came and tested the soil. The result was discouraging: pH was 4.4, and the agricultural engineer told that nothing will grow on this soil unless you add a lot of lime to it. For that, money was not available but still all kinds of vegetables were growing on this land just because of the Homa Atmosphere and adding of Agnihotra Ash. Sometime later the pH was measured again and it had come up to 7.2. That means that Agnihotra Ash does not just push the pH in one direction – it brings Nature back to harmony.
Very important for soil health and soil fertility are biological properties. We have seen that earthworms thrive in Homa atmosphere. Earthworms are actually an indicator for healthy soil. But also different kinds of microbes are essential, e.g. phosphorus solubilizing bacteria.
All plants need phosphorus. However, regardless of how much phosphate is added to the soil, only the water soluble portion can be utilized by the plant. One study done long time ago by Dr. Tung Ming Lai, Denver, Colorado, USA, showed that water solubility of phosphorus in soil increased if Agnihotra Ash was added: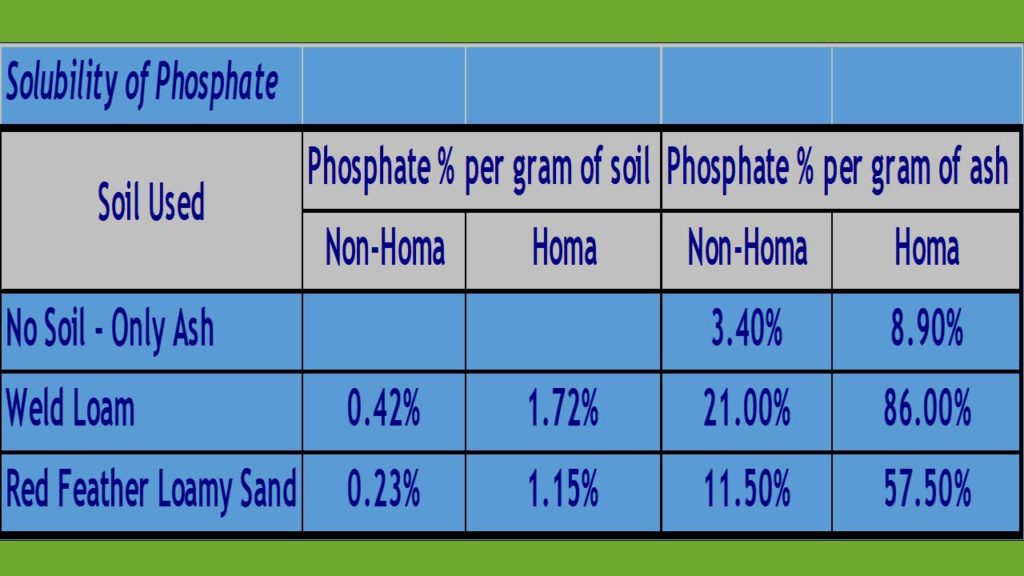 The question arises how this effect comes about. It is known that certain bacteria can help in turning non water soluble phosphorus into water soluble phosphorus, and the hypothesis was that Agnihotra Ash supports these bacteria. A recent study done in Ratnagiri, South India (a place famous for the Alfonso mangoes) confirmed this hypothesis: By adding Agnihotra Ash the count of phosphate solubilisers increased 1000 fold.
Another kind of useful bacteria in soil are nitrogen fixer. Their count increased 100 fold. This explains why in Homa Farming it is not necessary to add chemical fertilizers. The following graphics shows the comparison of useful bacteria with and without Agnihotra Ash (using different media to cultivate those bacteria for measuring):
The researchers summarized their findings saying that "addition of Agnihotra ash to the soil positively increases the number of effective organisms while suppressing the fungal growth. In all the samples, the ratio of positive to negative microorganisms is 100:0. i.e the soil contains 100 % positive or effective microorganisms upon treatment with Agnihotra ash."
Really a powerful substance, this Agnihotra Ash!
OM SHREE DHAM
Homa Therapy Teaching Centre and Homa Organic Farm, Australasia
Services provided by Om Shree Dham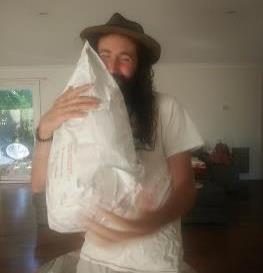 Asher, Agnihotri in Victoria, blissed out to receive a parcel of dried cow dung patties for his Agnihotra
Accommodation – Caravan, Self-contained apartment, or BYO tent or mobile home. For those who wish to imbibe Agnihotra and Homa Therapy into their lives as well as benefit from a healing and transformational Homa Biosphere created over a 30 year period. Closed from Dec 15th 2019 to Jan 5th 2020
Earth Healing work – Occasionally we go to Power sites to assist with Homas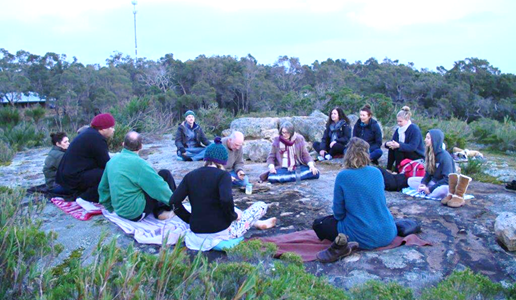 Agnihotra sunrise at an indigenous sacred site, Western Australia. An indigenous Elder of the area was present and was deeply moved calling Agnihotra a carrier of Truth.
Learning how to perform Agnihotra and other Homas – People are welcome to drop in half an hour before sunrise or sunset Agnihotra to experience the healing transformative atmosphere and to witness how it is performed. Phone first so we can let you know the Agnihotra times and our availability. 02-49981332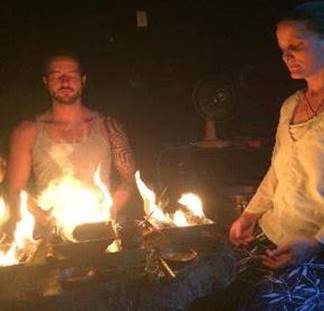 Karen Cleveland on the right, resident of Om Shree Dham and Arnaud on the left, a French Wwoofer
Sunday Satsang at Om Shree Dham – Most Sundays from 11am to 1pm we have small gatherings here where we meditate, sing devotional songs and read from sacred texts. All welcome. Please ring to confirm your attendance. 02-49981332
Open Days at Om Shree Dham with Talk on Homa Therapy – NB We will not be having Open Days at Om Shree Dham until further notice. However if you would like us to come to you see below:
Outreach through Free Workshops and Talks. If you are a good networker and would like to organise a workshop on Agnihotra and Homa Therapy in your vicinity – contact us. We are also available as Presenters at Conferences/ Festivals, etc. Homa Therapy is always taught free of charge world-wide. We appreciate help with travel and accommodation expenses through donations.
NB We are looking into a Workshop tour in SA in March. Please contact us if you are interested in hosting and networking.
Lee Ringma conducting an Agnihotra workshop at a Yoga Centre in Grafton, NSW
As well as supplies for Homa Therapy we specialise in providing other powerful healing tools including Narmada Lingams, Yantras, Moldavite, raw and as jewellery, superb Meru pyramid, Natural Incense traditionally made.
See www.agnihotra.com.au/Products
Homa Organic Farm and Retreat Centre building in progress. We are welcoming skilled volunteers to help us with the farming and building. Once the Retreat Centre is built we will be holding various courses here related to Homa Organic Farming, Homa Therapy Teacher Training, and much more. Contact us if you wish to give a hand. info@agnihotra.com.au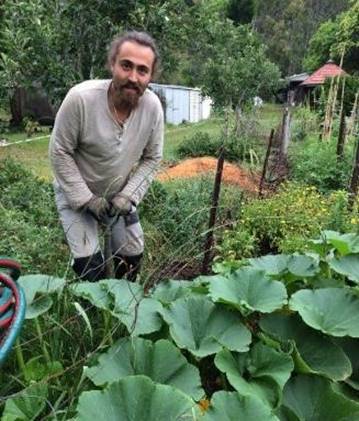 Work Exchange at Om Shree Dham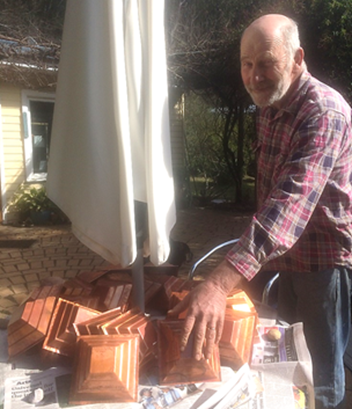 Preparing copper pyramids to be sent to the Philippines. Thank you to those who donated to make pyramids more affordable for our Philippino brothers and sisters!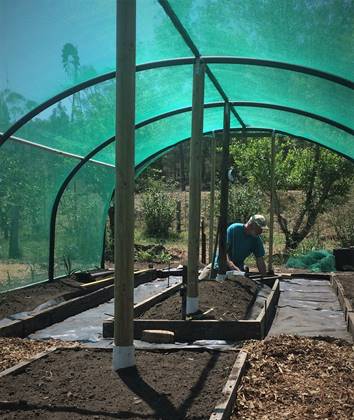 New shade house built to keep up with climate change!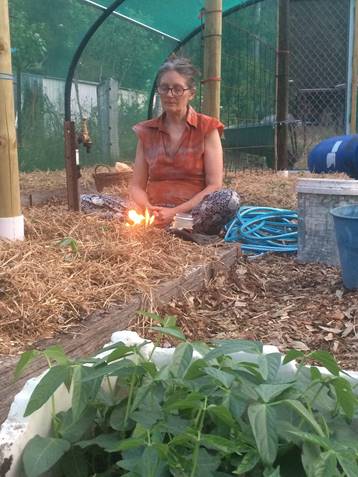 Bringing in the good and vital energy with Agnihotra to start planting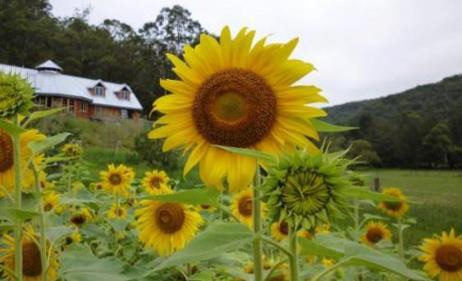 The new Retreat Centre in progress
May there be Love, peace and healthy environments for all,
Frits, Lee, Ana, Karen and Joy

'A nonprofit Association for Homa Therapy education and support to create vital, peaceful environments and people'
PO Box 68 Cessnock NSW 2325 AUSTRALIA
Ph.: 02-49981332 Ph. Int +(61) 249981332
Visit Our Website
www.agnihotra.com.au Information, Services and Supplies for Homa Therapy.