Mr. Alan Yong writes from his visit to Bangkok:
"I was delighted to join the Thai couple, Mr. Kantipong and Nisachon from Bangkok to perform Agnihotra at Anti-Cancer Foundation, at Waeng Kum Kum Road, Chiang Mai on 15th December, 2009. The chairman of the Anti-Cancer Foundation, Professor Dr. Charliew Piyachon also joined us. About 40 cancer patients enjoyed the Homa fire for the first time and they look forward for the next Agnihotra meetings."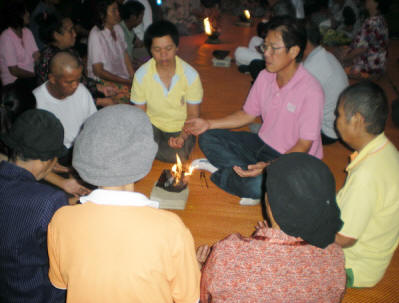 Photo above: Mr. Kantipong (in pink T-shirt)-Agnihotra with cancer patients in the Foundation. Photo below – performing Agnihotra from left to right: Mrs. Nisachon, Dr. Charliew, Mr. Alan Yong.