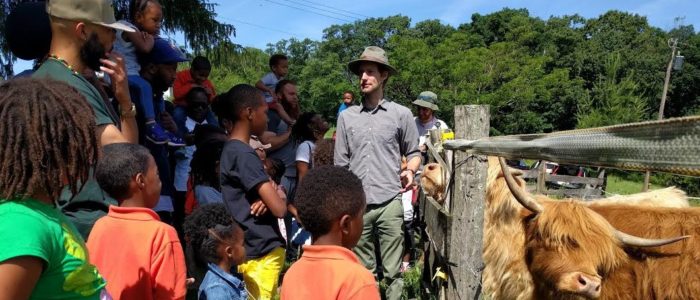 Children's Summer Programs at Ancient Oaks Homa Farm
Maria Broom
Children, children, children, and young people! From the time the Baltimore Homa Community began to envision our Homa farm, we could always see children there playing, singing, dancing, drumming, hiking, bringing their happy, excited energy and blessing us with just their presence. Well, after two and a half years, our Ancient Oaks Homa Farm in Westminster, Maryland was able to welcome almost 300 children and youthful counselors from the heart of Baltimore city… from five different summer programs, on five separate field trips.

Maria Broom, left, welcomes the Freedom School from William Pinderhughes Elementary/Middle School.
Blessed to receive a generous grant, BHC was able to provide tasty vegetarian lunches for everyone and secure wonderful facilitators who led drum circles, taught Yoga and dance, guided hikes around the farm into the woods and introduced the concept of mindfulness.

Hatha Yoga in the Peace Garden with Bonnie Maltby, co-author of Yoga and Meditation for Children.
One of the counsellors commented that the best behaviour he'd ever seen from his group was when they were on the farm.

Quiet time with Miss Maria and Homa fire.