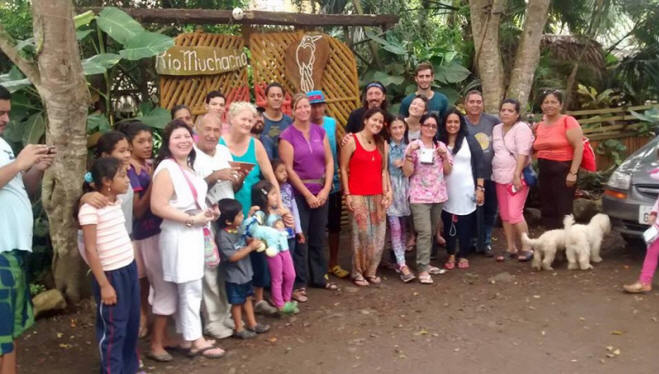 " Michelle Balandra, Ecuadorian from New York, writes:
The 'Organic Farming Community Rio Muchacho' in Canoa is absolutely wonderful! I felt like staying there. Children, adults, plants and all animals look so happy. There is an atmosphere of joy throughout the farm.
We could share with them a workshop on Agnihotra and Tryambakam Homa and the preparation of Sampa balls, a very nutritive food. We donated two Agnihotra kits with the necessary ingredients so they could continue the practice. They also received a lot of Agnihotra ash medicines like eye drops, creams and Agnihotra ash.
During Agnihotra I felt the sounds of the animals around us, helping to amplify the healing Homa fires, creating a stronger resonance. That was my impression. This area was really destroyed by the earthquake. We were able to share sunset and sunrise Agnihotra and put some Agnihotra ash in the River Muchacho.
(see photos)
(Photo above left) As we prepared the nutritious Sampa balls with Agnihotra ash, we continued singing and performing Tryambakam Homa.
This meeting took place thanks to the invitation of Eng. David Mantilla. We appreciate the warm welcome and loving service of Nicola and Darío (farm owners) and of all the volunteers of this farm."