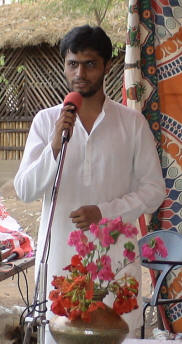 In Tapovan, we celebrated the birthday of Parama Sadguru Shree Gajanan Maharaj of Akkalkot in the traditional way by singing and chanting in the late evening of 16th May and then performing Vyahruti Homa exactly at 12.42 am on the morning of 17th May. Several local people joined members of the Tapovan family for this. Later in the morning we performed Rudra Yajnya.
Then in the evening, we conducted a workshop at Tapovan on the topic "Agnihotra for Environmental Protection: Preparing for Climate Change."
Invitations were given in our local area and people were asked to bring their Agnihotra pyramids.
Talks were given by Sarvajit (photo right), Abhay, Dilip Patil, Bruce, Dr. Irma and Dr. Himmat Chaute (photo below from left to right), gave testimonies about the healing power of Agnihotra.

At sunset, we had a massive healing with 120 Agnihotra fires.