Tania Gutierrez came over from Peru to have a deepened experience with Homa Therapy. She stayed for about 2 months. She writes: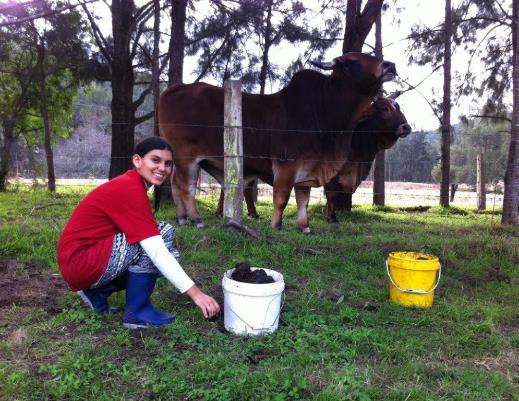 Tania, collecting cow dung from our Brahman cows
I came to Om Shree Dham because I wanted to improve my spirituality and to practice Homa farming.
I am a Forestry Engineer and I like everything related to agricultural science and nature. My mother does Agnihotra in Peru and sometimes I accompanied her, but I did not make it regular practice. The experience at Om Shree Dham gave me more than I expected. Practicing Homa Therapy and my experience at Om Shree Dham not only deepened my spirituality, it also improved my health, gave me more knowledge related to agriculture and improved my prosperity. I feel very grateful for Homa Therapy and for the Ringma family because they made me feel like it was my home.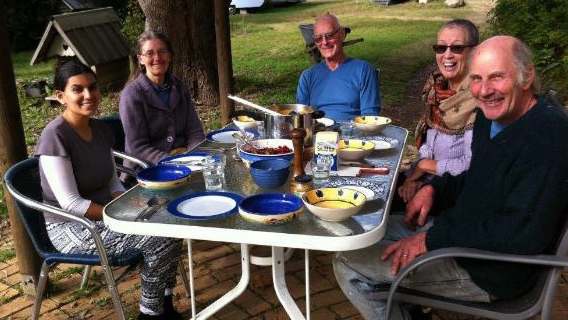 Tania, Lee, Robert and Josita from New Zealand and Frits enjoying an organic vegetarian lunch together from Homa grown veggies at Om Shree Dham.
I came on 9th of June and I stayed for more than two months here. During this time I helped with the farm work, for example, feeding the cows, making cow dung patties for the Homas and working with the vegetable gardens and fruit trees. All this work was complemented with Homa Therapy practices.
I did the sunrise and sunset fire, one hour Om Tryambakam daily, the Gayatri, etc. All these activities helped me in an holistic way, the good actions producing good karma in my soul and my body. I am very grateful to God for bringing me here, for permitting me to know the Ringmas and for the good times here on the farm and in Australia. Homa Therapy has helped me a lot.
| | |
| --- | --- |
| Photo left: Tania presiding over delicious orange juice from our Homa citrus trees | Photo right: Mid-day Gayatri Mantra with Homa the day before returning to Peru |