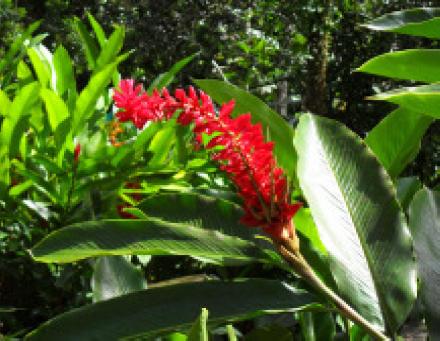 On August 11, 2011 my son Matt and I took off for Puerto Rico, to be joined later by Dr Henry Gregory of the Baltimore Homa Community.
We had been invited to give some talks on Homa Therapy and to set up a Resonance Point at a bed and breakfast called Casa Picaflores, in the rainforest.
Resonance technique is a part of Homa Therapy in which simple practices are used to heal greater areas of sick crops in shorter periods of time.
It requires two huts — one for daily performance of Agnihotra, and one for Om Tryambakam Homa. (For more information on Resonance Points, please see "Homa Therapy Resonance Technique" in Satsang, Vol. 26 #4, November/December 1998 at www.agnihotra.org.)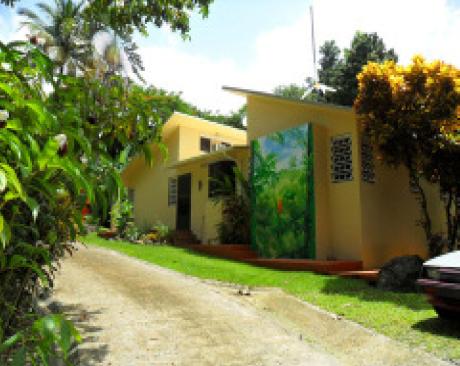 Barbara Rogers was our hostess for the weekend. She was joined later by her daughter Tamara and granddaughter Alexis from Las Vegas, Nevada, where Barbara has a business.
Barbara bought this property two years ago and turned it into a garden of tropical flowers, fruit trees and frogs. Still, there was trouble in paradise, in the forms of large three-inch snails which were very destructive to the plant life, and diseased mango trees. Barbara had just learned about Agnihotra four weeks prior, but believed without a doubt that this would bring nature into balance, and harmony to the community.
The first Homa Therapy talk was on Friday night, attended by several professionals, including a doctor, a lawyer and a judge, along with some organic farmers. Using a Power Point presentation, we emphasized the scientific aspects of Agnihotra and how it can help with agriculture, human health, and water and air purification.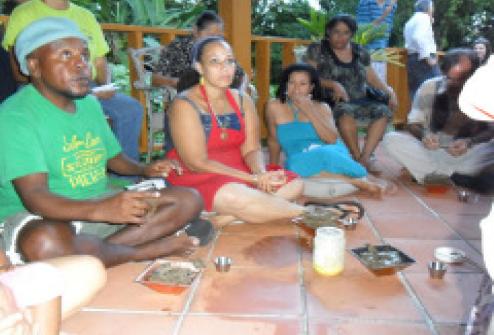 Six people bought pyramids. At sunset we had about ten fires burning. Afterwards, many people commented on how relaxed and good they felt.
On Saturday night the local families came, some of whom work for Barbara, along with more organic farmers. This talk focused more on hands-on application of Agnihotra ash and ghee ointment on several of the attendees, and emphasis on how Agnihotra could benefit them physically and with their gardens.
Again we had a group performing fires, with many beginners. We spent about forty minutes each evening teaching how to perform Agnihotra, and practicing the mantras.
One lady was planning to go directly from the talk to the emergency room at the hospital, as she had been unable to eat for three days due to an inflamed and swollen throat condition. After the fires she was completely healed and was dancing in the driveway, exclaiming how great she felt! She ate a big dinner, too!
For both evenings, Barbara had arranged for buffet vegetarian dinners to be catered by her good friend Skai. Skai specializes in raw foods and the meals were delicious! A few years ago Skai ran a raw foods restaurant in Baltimore, but now lives in Puerto Rico; she and Henry are old friends, so our visit brought about a happy reunion.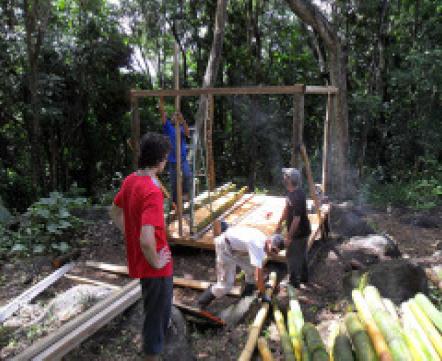 On Saturday morning we did the activation of the pyramids for the Resonance Point, and on Sunday buried the pyramid under the partially built Agnihotra Shala.
Matt stayed on for an additional two weeks to do Agnihotra and Yajnya there. On some evenings a group of people came to Casa Picaflores for Agnihotra, mainly friends of the woman who experienced the healing of her throat. One night a man came who seemed very skeptical and appeared reluctant to be there. He didn't speak English. He drank some Agnihotra ash water and sat for Agnihotra. The next day he returned, smiling and joking with people. Matt learned that the man suffered from high blood pressure and after drinking Agnihotra ash water and attending Agnihotra, his blood pressure came down for the first time in two years. Another person who was a diabetic found their blood sugar stabilized after Agnihotra.
During Matt's extended stay, he witnessed the wrath of Hurricane Irene as it passed directly over Puerto Rico. Barbara's property was safe, up on the mountain, but the town below was flooded. The power lines all came down and were quickly stolen, to be sold for copper. Fortunately, Matt was still able to make his way to the airport a few days later and leave as scheduled.
Henry and I returned on Monday, August 15th. We arrived very late at the airport; due to a shortage of seats, we were given an upgrade to First Class–a great ending to a great trip.
Heartfelt thanks to Barbara for all her help and hospitality.