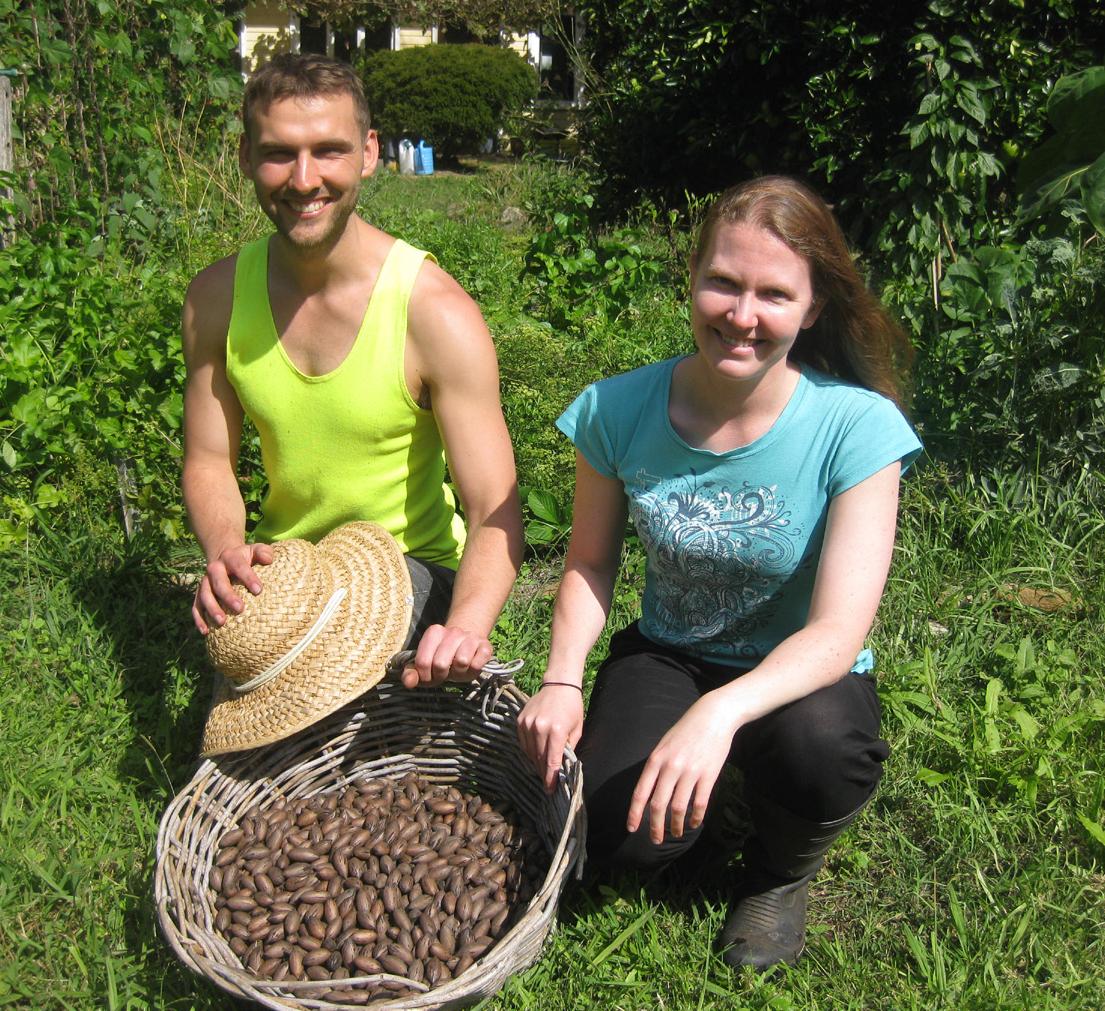 We received the following story from Patty Powers:
In March, 2014 I had the wonderful opportunity to go to Australia and visit Om Shree Dham in the Hunter Valley, NSW, Australia.
I found that the longer I stayed at Om Shree Dham, the more I felt its similarity to our Homa community in Madison, Virginia, as if the two were sister communities. The routine of morning and evening Agnihotra, Homas at 10 A.M., noon and 3 P.M., and an hour of Yajnya daily helped me feel right at home.
One immediately feels peaceful when walking onto the property. The garden feels as if the Devas are happy! The organic farm produces herbs, vegetables, pecans and citrus fruits. (Our pecan harvesting in the cow pasture was cut short one day; the bull saw our ladder, rushed over and proceeded to bump it with his head.)
Photo right: Agnihotri Joshua Hoare and Patty Powers harvesting pecans.
It was great to spend time with Lee, Frits and their family, as well as other visitors to the farm. Two Kundalini yoga instructors from France were also visiting during my stay. It was interesting to meet them because I had studied Kundalini yoga in college.
Gardening was a little different than it is in Madison. Kangaroos hopped around in the orchard, and the hand-sized spiders on the property took some getting used to.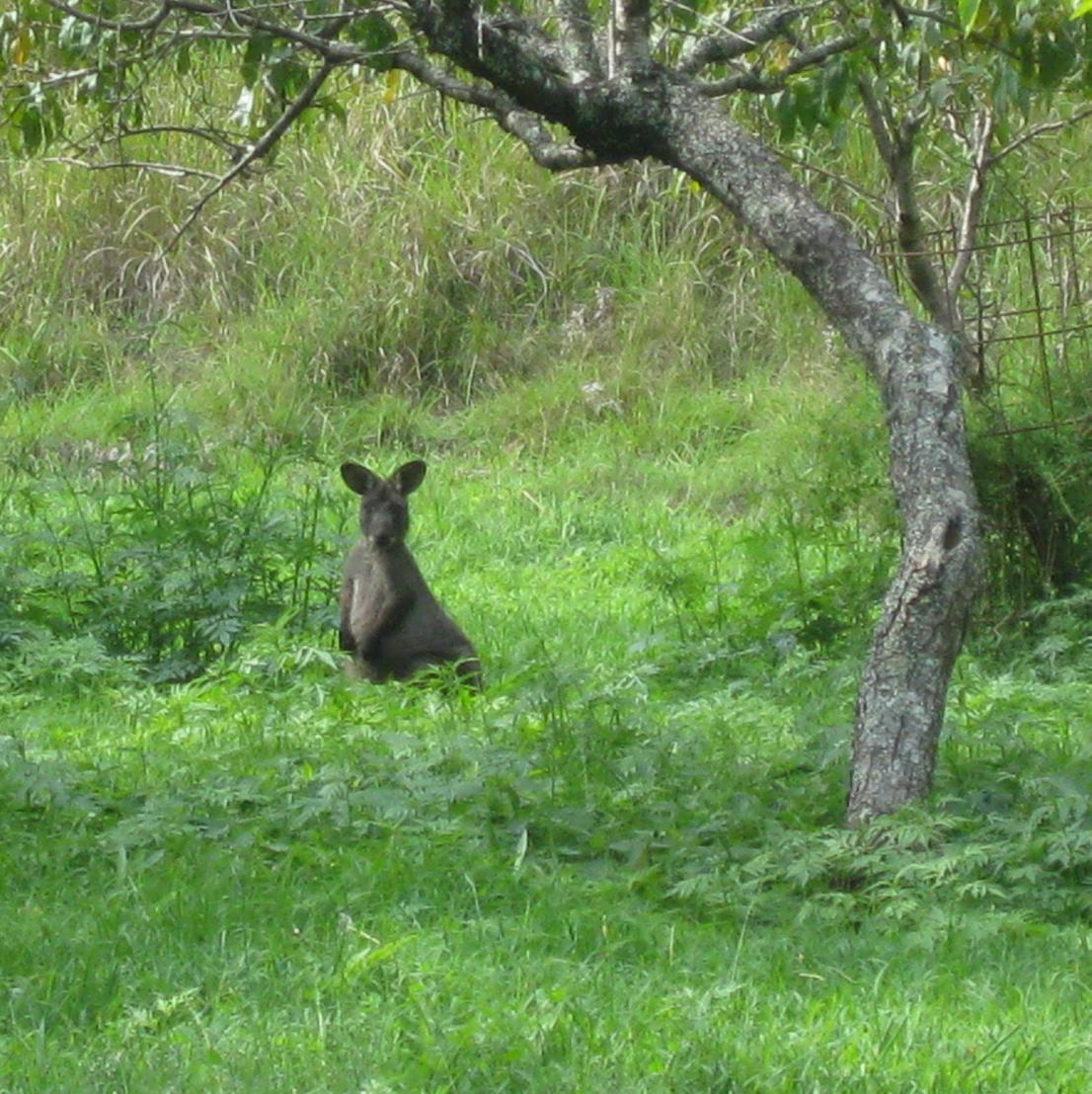 Sunday Satsang at the farm included fires and chanting, reading from Shree Vasant's teachings, devotional singing, and toning with singing bowls and other instruments.
During several excursions off the farm, we visited some Aboriginal caves and the nearby town of Wollombi, where we met an amazing Aboriginal artist. All of his artwork depicted different Aboriginal legends. He told us about the area near the farm, and said that the farm was located on what was originally a women's meeting ground.
Two highlights of my trip were getting more in tune spiritually, and scuba diving in the Great Barrier Reef during a side trip off the coast of Queensland.
I would highly encourage anyone interested in traveling and wanting to dig in spiritually to visit Om Shree Dham.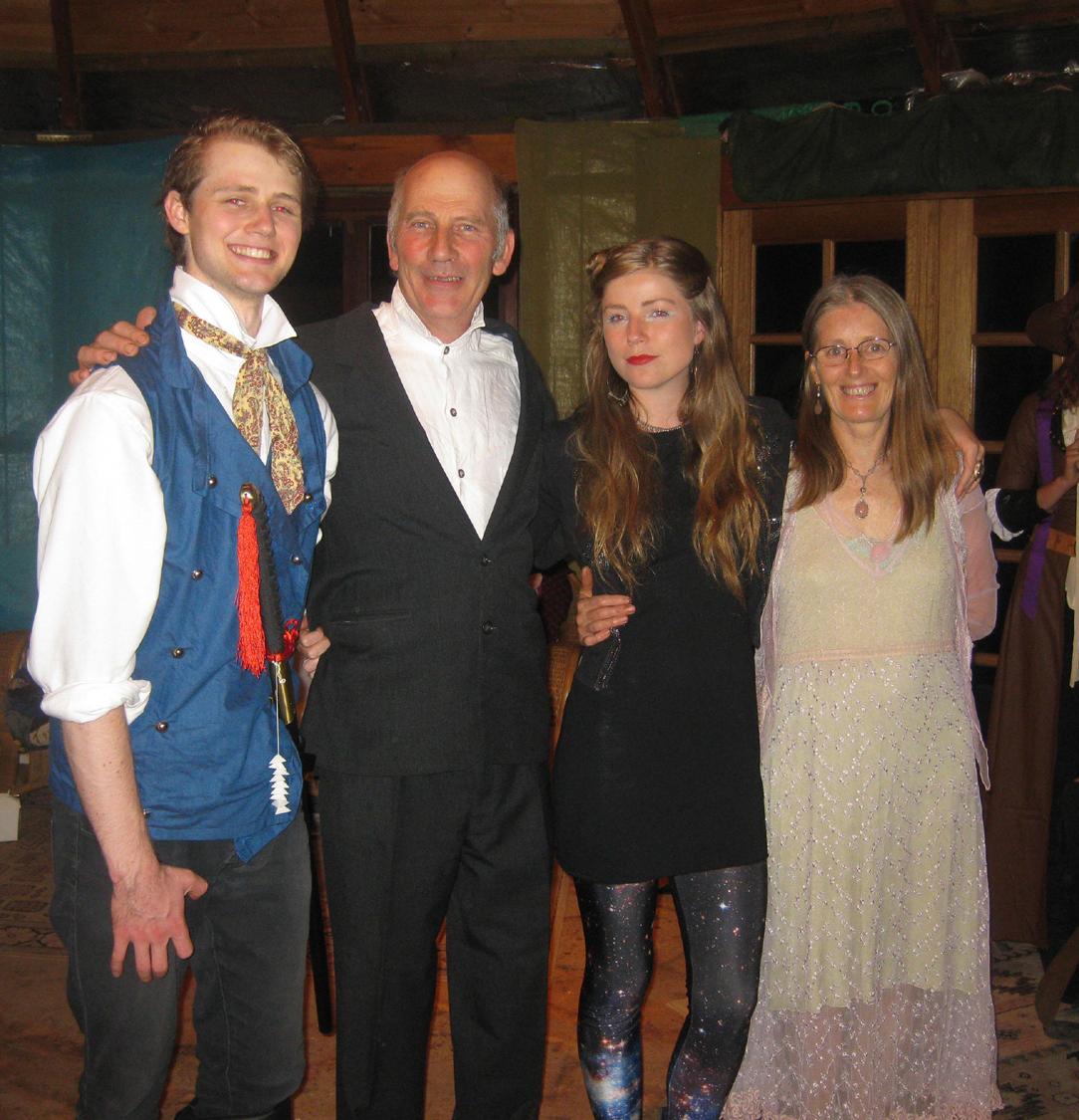 From left, Adi, Frits, Ana and Lee Ringma at Adi's 21st birthday party,
in the future Community Room of the farm.
Thanks to the Ringma family for all their efforts to make my stay enjoyable and meaningful.