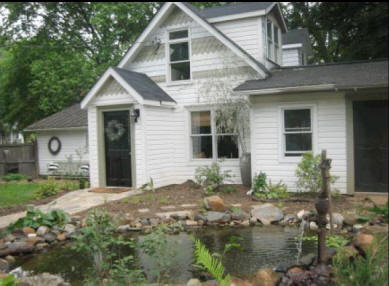 Through the inspiration of Shree Vasant, the Karmé Holistic Wellness Center officially opened on May 17th, 2008. Located at the Homa Resonance Point in Baltimore, on Ann and Tom Couto's property, this charming 19th century carriage house has been fully renovated.
Karmé (which is Tibetan for 'to be in Service') is a beautifully appointed Wellness Center with two treatment rooms, a luxurious bathroom with a sunken tub for healing bath treatments, and a heavenly bedroom overlooking trees, for overnight or extended stays.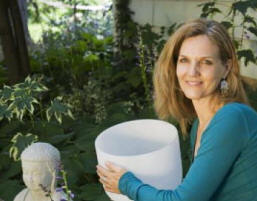 Treatments offered are: Massage and Cranial Sacral therapies, Acupuncture, Reiki, Sound Therapy, Rebirthing, Breema, Shirodhara, Breath Work and Life Coaching.
(Photo: Sound Therapist Patricia Norton in the Buddha garden.)
Since Karmé is located at the Homa Resonance Point, where Agnihotra and daily Tryambakam Homa have been performed for nearly 25 years, the healing potential at the Wellness Center is greatly enhanced. Many of our treatments begin with a fire and Om Tryambakam Mantra, to further increase the potential for healing and protection.
We also welcome those interested in learning more about Homa Therapy and Homa gardening. Come and experience firsthand the Vedic healing fires and Mantras.
www.karmewellness.com