Huglett´s Wood Farm nestles deep within the rolling hills of the Sussex High Weald. It is the only HOMA & AHIMSA (non-violent) farm in the UK and the only farm animal sanctuary, which operates a dedicated Cow Protection Program.


I first met Wenda and her partner, Matthew, back in 2003, when I went to visit the farm with two friends, looking for a supply of fresh, organic cow dung for the fires. Nothing could have prepared me for what I would encounter at this place.
Although when I visited Huglett´s Wood Farm, I had been practicing HOMA Therapy and Agnihotra for more than twenty-five years, I had had little contact with cows. I had always felt a bit scared of these big animals. I never had too much interest in pondering the meaning of their existence. Like so many of us, I thought of them only as suppliers of dung and ghee for the fire and of milk and butter for the home!
I remember my journey to the farm so vividly. We drove through the beautiful English countryside; down narrow lanes that twisted and turned until we found ourselves completely lost. Just as we were ready to give up on our search for the elusive Huglett´s Wood Farm, my friend Bev, managed to reach Wenda on the phone and get new directions.
"You will know when you have arrived at the farm as you will come to a long driveway," she told us. "It's almost a wild lane that leads down to the forest." It was there, as we arrived, that my heart started beating so fast and a slight headache appeared. At that moment, I remembered the words of Wenda's email that I received the day before: "Drive down the lane SLOWLY as there are deer and pheasants." We were met by a tall, very attractive lady, who was standing waiting for us with two dogs at her side. I don't know how many ducks, geese and chickens wandered around the farmyard or how many sheep peered through the hedges to gaze at us lazily, as while they chewed over the grass they had just eaten. Over 30 cows of all different colours and sizes were grazing contentedly in the fields. The moment I stepped out of the car, I felt that I had known Wenda all my life. When Matthew came to meet us, I had the same sensation.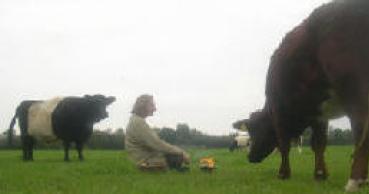 It wasn't until much later on, I discovered the reason that in spite of all the positive energy there, I felt that the place held so much sadness.
I asked Wenda if I could do Vyahruti Homa as I felt it would help. She agreed immediately. Later, as we went to collect some fresh cow dung and see the cows, the fun started! Wenda introduced us to each of the cows in turn. First, Sam, the head of the herd, and so on. I was terrified! Never in all my life have I seen or been near to such big creatures. We are talking about fully grown bullocks, some of whom weigh two tons. She "talked" to them and told them why we were there. Then she stood back quietly, and left me (and my other two friends) to interact with the herd. I couldn't move. I think I was in shock! All of a sudden one of the biggest bullocks stood up and came towards me. The only thing I could think of doing at that moment was to repeat OM SHREE, OM SHREE.
He moved slowly and gently and stopped just in front of me. His eyes looked straight into mine as he breathed into my hands; a warm, sweet breath. Again he looked at me and my soul melted in a wave of love that I had only ever experienced in front of Shree and at the births of my daughters, when they opened their eyes and looked at me for the first time!


It was such an amazing and over-whelming experience that I could not tell anyone. What I didn't know at the time was that my friends were also having similar experiences. I think that day I received one of the deepest healings of my life.
After that first visit, I did not see Wenda again, until a year later. When I returned to Huglett´s Wood, she had already decided that the fires were the missing piece in the jigsaw of her life. In 2005, we asked Jarek Bizberg from Poland to come to the farm and open a Resonance Point. He and Parvati came, and on the 14th of July (*Independence Day in France!) the Resonance Point was opened. It was a very special day.
Parvati received the following message in meditation:
"The fires are the highest practice one can do to heal the land and restore the balance of Nature and humankind. Returned to its rightful custodians, long period of grieving has now past.
Upon first glance one can see the harmony in Nature and refuge for all animals, not only cows, as well as for Devas, Earth Spirits and Light Beings.
In ancient times there was torture and slaughter of animals particularly here on this very land. Acts of violence beget acts of violence. The cycle has been broken. Today is Independence Day* for this land.
Energies radiating from this site at times of sunrise and sunset will serve to heal and balance Nature. The activation of the resonance point at this particular farm serves to create an opening through which the Light can emanate way beyond the borders of this property. Today the Devas are in song. OM TAT SAT."
Huglett's Wood Farm had once, in years gone by, been a place where there was great suffering of animals and birds. It was this that accounted for the over-riding feeling of sadness that I felt at my first visit. Three years later, this has all but disappeared and the land exudes pure, positive energy.
My experience is that here at Huglett's Wood Farm Nature come into her own, gently, nurturing and sustaining all forms of life. Everything here is in harmony, every blade of grass is in harmony, every tree in the wood is an example of how Nature can communicate with us if we are alert and work with her in harmony and with respect.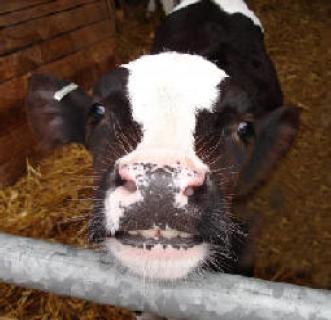 Agnihotra fires are burned in the Farm temple every sunrise and sunset. Daily Om Tryambakam Homa helps to maintain the powerful Homa atmosphere that produces the perfect environment for growing fruit, vegetables and herbs. Homa farming techniques are also used to aid the regeneration of the 18 acres of Ancient broadleaf woodland that belongs to the farm. Once sadly neglected and completely mismanaged, over a number of years, the woodland was slowly dying. Now under careful coppice management, the woodland provides the material for many traditional products. Sussex charcoal and artists charcoal are produced through summer months; logs and kindling through winter and a whole range of woodland products are marketed year round. An oak and chestnut nursery raises saplings from the seeds of existing trees. Once large enough, they are planted back in the woods to replace the trees that were destroyed by previous owners.
Wenda and Matthew grow a wide range of vegetables, salad leaves, herbs and fruit, which is marketed through their Box scheme; delivering freshly harvested, organically farmed HOMA produce to their customers.
As well as being a working, vegan farm, Huglett's Wood provides sanctuary for over 200 animals and birds. They care for 35 cows, oxen and calves. Some of whom were born there and know nothing other than love and kindness; others, not so lucky, have also found their way to them and now live in peace.
You may have already read about some of the cows from the farm and how they have been treated with Homa ash, in past issues and the story of Dickie, a little, dying calf, who came to the farm having been left outside in the snow and freezing cold without shelter or food.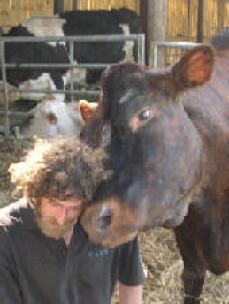 The Vet gave him no chance of survival and said he would at best, (due to the lung damage he has sustained) have no more that a few weeks to live. He now runs happily with the big cattle. This is a real love-story and maybe I will be able to persuade Wenda to tell you about Dickie and his fight for life; how she slept with him in the barn during the hardest winter months, to make sure he was breathing easily through the night. For now you can enjoy the photographs.
If by any chance you are in England, you must pay a visit to this place. I warn you now, it's a life-changing experience. To appreciate it fully, you need to be open, to listen to Nature, to listen to these wise creatures that are instruments of the Divine, guiding us all the way home…
Although Huglett´s Wood Farm is a working farm and not a center, I am quite sure Wenda and Matthew would be happy to spend some time with you, sharing their vast knowledge of farming and cow protection. If you're really lucky you may even get to meet the cows like I did. If you do, I guarantee, your life will never be the same. I cannot explain how very humbling this experience was. Every day I give thanks for the opportunity to help on this special place. I am so grateful to the Divine and to Shree, (with Whom Wenda has just spent some time in India, last November), for having these two people in my life and for the love of those 35 boys and girls. I give big thanks to those amazing creatures for allowing me to be close to them. Om Shree!
Many happy Fires and all the best for all of you. Keep those fires alight, wherever we are, whatever we do, One we are One!