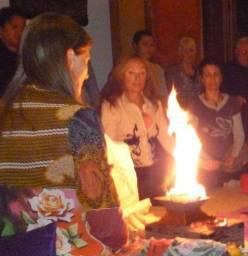 An Agnihotra tour and Homa Therapy workshops were held in Victoria in early May. Maryann Billian from the Baltimore Homa Community in the U.S. and Joshua Hoare, Agnihotri from Melbourne assisted Lee on the tour. It was lovely to share the experience, always highly inspiring and enriching.
Stops included Peter Noblet's Ayurvedic Healing Centre in Highett, Torquay in Leonie's home (attended by many young families), Trudy's place in Kyneton, and Tania Kavathas's home in Croydon. Tania is an Art of Living teacher.
At Nancy Marie's home in Watsonia we held a Women's Healing Circle utilizing Homa to facilitate a powerful group meditation. The lounge room was packed. We prayed, we sang, immersed ourselves in the pure angelic sounds of crystal bowl toning, sent healing and all felt deep transformational energy blessing us and radiating out. Thank you to Nancy Marie for opening your home in Watsonia for this event and drawing a crowd through your enthusiasm and sincerity.