Navdanya Bija Vidhyapeeth College of Sustainable Living invited us to a seminar on "Mahatma Gandhiji and Globalization." His Excellency the Venerable Prime Minister of Tibet, Prof. Samdhong Rinpoche, was one of the main speakers. The meeting was held at the organic farm at Dehradun, Uttarakhand, India.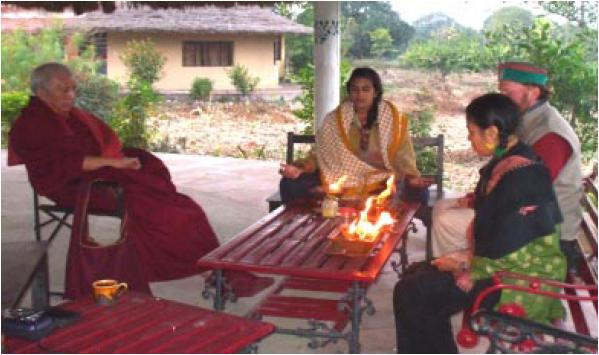 Volunteers from around the globe come here to learn organic farming and the art of simple living. The founder and president of Navdanya, Dr. Vandana Shiva, internationally environmental activist and author, is also very well-known for her campaigns against GMO crops.
We had the opportunity to meet His Excellency in a private audience and shared Homa Therapy with him. We were able to address several fields of application, but our main focus was on agriculture and forestry: how to protect nature and the environment with Homa.
The Venerable Samdhong Rinpoche blessed the evening Agnihotra session with his presence. His Holiness expressed his interest in Homa Therapy and we are looking forward to meeting again in Dharmasala for further talks.
A Buddhist quotation in ancient Pali script, Suttanipat 568, states,
"Aggihutta Mukho Yanjah"
(Agnihotra is the chief among Yajnyas)