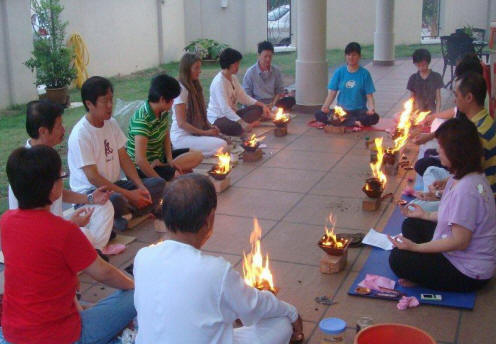 I was invited for a Homa tour in Malaysia by the volunteers Mr. Tee Liang Wong and Mr. Alan Yong, which has proven a wonderful success in spreading the message of the healing Homa fires. Mr. Tee Liang Wong shares this wonderful report:

June 22nd: Agnihotra in Kuantan, 220 km East of Kuala Lumpur in the home of Mr. & Mrs. Ang. That afternoon a Homa Therapy workshop was held at Lucky Valley in Bandar Muadzam Shah, about 100km south of Kuantan. It was attended by a group of Qi Gong practitioners.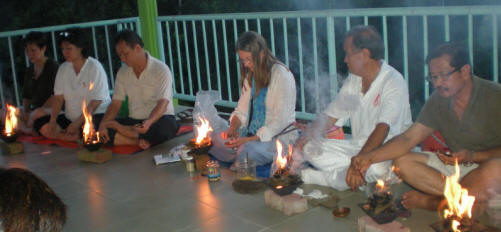 Photo left June 24th: Homa Therapy workshop in Kuala Lumpur at Pearl International Hotel, which was kindly sponsored by the owners for the use of the Homa venue. This healing event was very well visited.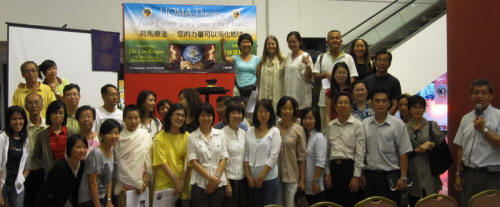 The next morning, Friday June 25th, sunrise Agnihotra was performed at Damansara Jaya Park in Petaling Jaya. Being a weekday, we anticipated only a handful of people turning up. More than 60 people turned up. Quite a number were those who attended the talk the evening before and were eager to start performing Agnihotra. (see photo below)

Lee Ringma was interviewed by Esther, a reporter from China Press newspaper who then decided to learn more about Homa Therapy. She came back with her husband the next morning to join us at our regular weekend Agnihotra at the park.
June 25th: In the afternoon, a big group of Agnihotris and friends converged at Green View Farm in Broga, Semenyih. More than 100 adults and children came. Lee conducted a talk on Homa Therapy and then we all performed sunset Agnihotra. (photo below). We are most grateful to Mr. Malarvanan, the owner of the farm, for sponsoring the venue and providing free accommodation to all the participants who stayed overnight and Mr. Govindasamy Suppiah, the farm manager, for making all the arrangements including food and drinks.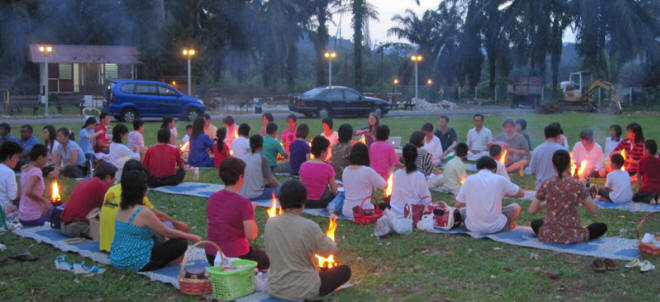 Continuing with the whirlwind tour, a small group of Agnihotris accompanied Lee Ringma to Seremban, Negeri Sembilan on the afternoon of Sunday, June 27th. Seremban is about 100km south of Kuala Lumpur. Mr. Chu, the owner of Tashi Delek Vegetarian Restaurant was the host. He graciously allowed us to use his Dhamma Hall for an Introductory Talk on Homa Therapy and generously served us a wonderful Chinese-style vegetarian dinner afterwards. A very small group of people had turned up for the talk. We were initially a bit disappointed with the rather small turnout. However, what we have humbly learnt since then is not to judge events by the number of people who turn up. This small group who turned up for the talk have since then become very earnest Agnihotris and are spreading the message and sharing the knowledge of Homa Therapy with many people.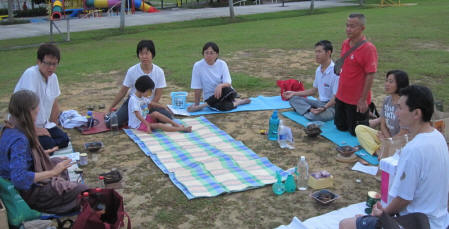 On the afternoon of June 28th, with the support of our Seremban group of Agnihotris, we proceeded to the next stop on our itinerary, Melaka, the oldest historical town in Malaysia. We had made arrangement with Ms. Chan, the owner of Chan Organic Shop, to demonstrate and explain Homa Therapy to all her customers. Thirty people attended the talk. (photo below)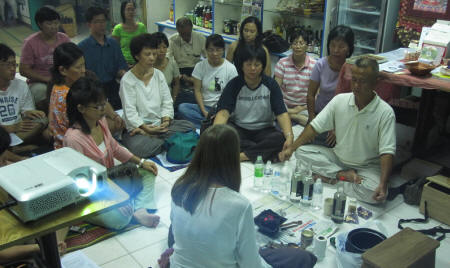 Our next stop was a town south of Melaka. Muar is in the state of Johore. Mr. Lee Kuan Hwee, a local newspaper reporter was the person who requested for a series of introductory talks to surrounding towns. Due to his enthusiasm, we felt that it was best that a qualified Homa Therapy teacher give the talk. Mr. L.K. Hwee managed to arrange the talk at a local primary school. The China Press newspaper was the major sponsor of the event. It was attended by over 100 people from all walks of life including the school's principal and a few senior citizens above 70 years old. The organizing committee was extremely generous in arranging a buffet dinner for everyone. Lee Ringma was also presented with a Certificate of Appreciation. (see photo below).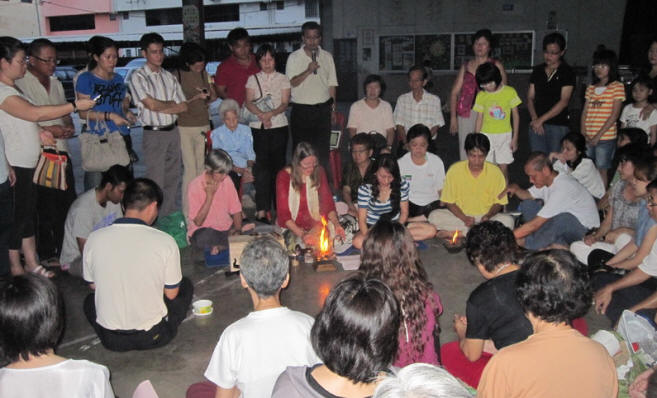 On July 2nd, Mr. WH Soh and Ms. Karen Chow accompanied Lee Ringma to Tanjung Sutera Resort, Johore for a two days workshop on Homa Therapy. Tanjung Sutera Resort is a 400km drive from Kuala Lumpur. The workshop was organized by Ms. Betty Lau, an author and environmentalist from Singapore.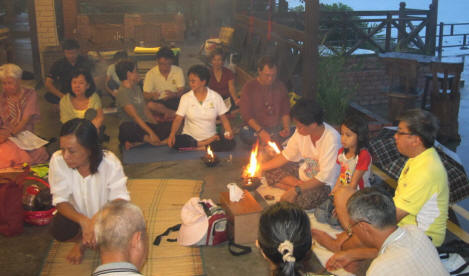 The majority of the participants were from Singapore. They are well-informed about environmental issues and have the desire to contribute to the healing of nature. This group of participants are now collaborating in spreading Homa Therapy in Singapore. They have been actively organizing group Agnihotra sessions to help heal the environment.