Mrs. Mercedes Paez writes about her trip to Havana, Cuba:
"I went to Cuba for 12 days. I felt very happy because the people in Cuba are so kind and they are very interested in Homa Therapy. I spoke to Dr. Mariela Castro's secretary about HIV Center in Cuba and to bring Homa Therapy like an alternative medicine to HIV patients.
Cuban people are working seriously in organic farming and there exists also interest in applying Homa Farming Technology.
Dr. Miriam Bolet, MD, is very interested in Homa Therapy and she is working in Calixto Garcia Hospital in Havana. She is in the picture left, 1st to the right, doing Homa Therapy with Pascual Albernal, a Yoga Teacher and other friends. The photo below shows another Agnihotra session in Havana.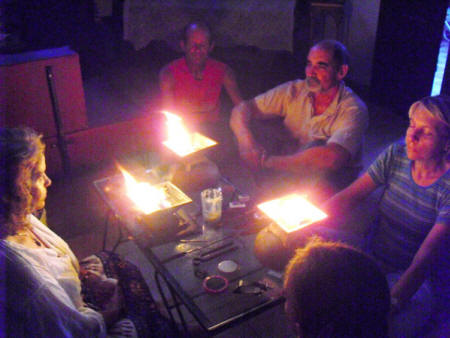 There were already healing testimonies in Cuba:
Mr. Nelson Rolando, known as Coco and who is 49 years old, suffered from Bursitis. He had pain in the left shoulder and arm and told everyone: "I am going to find out if Homa Therapy works" Skeptically, he started participating in the sunrise and sunset Agnihotra. He inhaled the Agnihotra smoke and took Agnihotra orally and also applied it on his shoulder and arm.
Already after 2 days of assisting Homa Therapy, he felt a complete relief and the video shows how he can move his arm. He says that the pain disappeared thanks to the practice of Agnihotra in Cuba.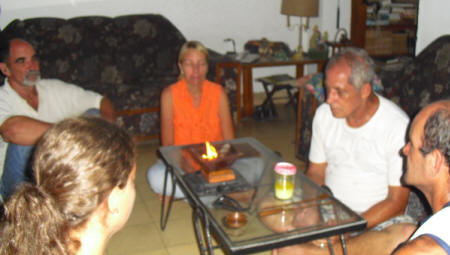 I thank Shree for providing me with the opportunity to present Homa Therapy in Cuba."