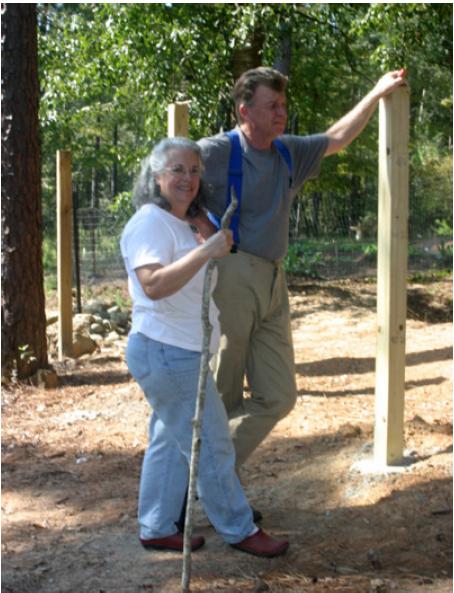 From April 15-17th I went to Citronelle, Alabama to give a talk on Homa Therapy and to set up a Resonance Point at the Middle Earth Healing and Learning Center. The center offers workshops on many aspects of permaculture and sustainable living, such as medicinal herbs, solar power, and other forms of alternative energy.
Craig and Lisa Kalloch have been developing Middle Earth for the past ten years as a self-sufficient center, to serve as a refuge in times to come. The forty-two acre property features gardens, ponds, livestock, greenhouses, a 30-foot diameter yurt which serves as a meeting hall, and housing for interns and visitors.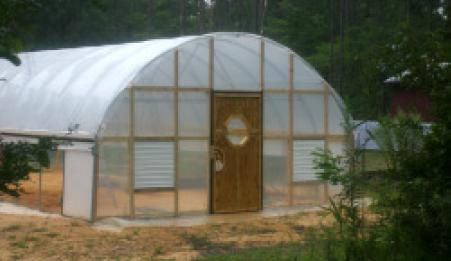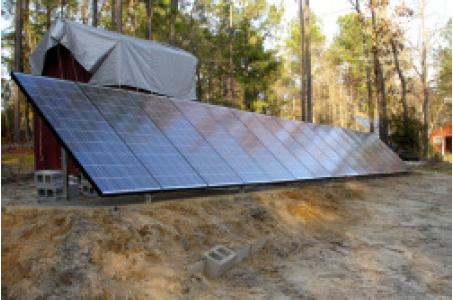 Craig has learned solar energy installation, and everywhere you look there are solar panels and solar hot water panels.
He is currently working on heating garden beds in one of the greenhouses, using a solar hot water system. The yurt is geothermally heated and cooled by drawing on the earth's constant underground temperature. The Kallochs have 16,000 gallons of rainwater storage. (One of the tanks is shown below, with the yurt in the background.)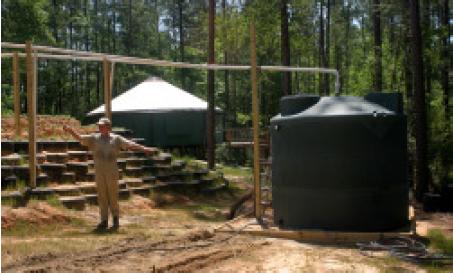 The Kallochs learned Agnihotra five years ago, but have recently stepped up their practice.
When I arrived, the Agnihotra Shala was still under construction, but we were able to energize the pyramids and establish the Resonance Point.
On Saturday we had a small meeting of people from Florida, Alabama and Mississippi in the air-conditioned yurt. I gave a presentation on Homa Therapy with emphasis on Homa gardening and farming, and the Resonance technique. We went outside into the garden and transplanted plants while Frank Nelson performed Om Tryambakam Homa. We also had a cowdung-spreading demonstration. We ended the afternoon by sharing a delicious potluck meal.
Thanks to Craig and Lisa for hosting this event. More on Middle Earth can be found on their Facebook page.
Interns are welcome!