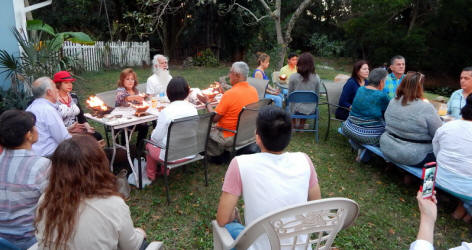 In the farm of George and Kathy Sorios, who are practicing Permaculture techniques, they have created a small jungle with native plants and trees in just a few years. Prof. Abel presented Homa Farming in an audiovisual way, emphasizing its benefits.
In a few days, everyone witnessed extraordinary happenings with Homa Therapy.
Mr. George took all guests for a tour around the farm.
At sunset, we practiced Agnihotra, for the joy of the birds, trees, geese, flowers, plants, vegetables and all and everything alive in this beautiful environment.
There were a couple of Homa meetings during our stay at Laulima farm.
| | | |
| --- | --- | --- |
| Photos above and to the right: during the visit of the 'Laulima' Permaculture Farm of Mr. George Soria and his wife Kathy. | | |