A new program is being implemented by the Agricultural Department (at Municipality level) in the whole state of Madhya Pradesh. The different departments have to conduct at least two farmer's gathering programs every year in the Monsoon (Kharif) and in the Winter (Rabi) season to make farmers aware of the new technologies, methods and practices to solve the problems faced by the farmers. The Agricultural Department from Maheshwar invited Fivefold Path Mission to address the gathering, as this year the District Khargone faced a huge crop loss due to seasonal changes and pest attacks.
Abel Hernandez and Sarvajit Paranjpe addressed the gathering and talked about HOMA Farming and Homa Therapy and explained how agricultural and health problems can be overcome with the help of this ancient healing method.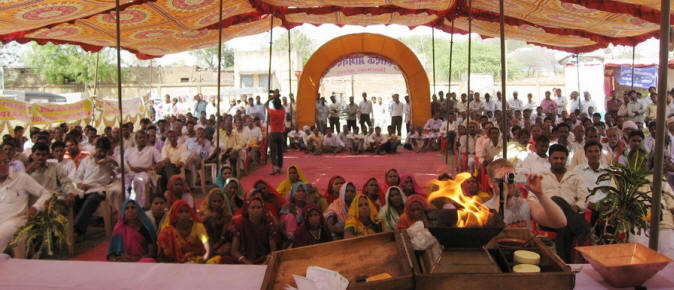 Many farmers arrived through long journeys from various districts to hear about Homa organic farming and it's worldwide success. Abel and Sarvajit explained how simple Homa Farming Technology is and also its wonderful effects in the health of animals and human beings.