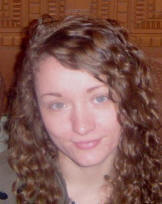 Clare Batchelor from UK learnt Agnihotra at Tapovan, India. She packed a whole suitcase full with cow dung to ensure that she would be able to do Agnihotra on her return to Wales. Clare writes:
I just thought I'd let you know what happened at a retreat I went to, when I got home. I thought I'd carry on with the fires as normal in that very posh and large country hotel. Everyone on the retreat heard that I was about to perform Agnihotra and came along to watch. It was nerve wracking, chanting the mantras in front of loads of strangers and wild weather conditions at the same time as being jet lagged. Still, everything went really well.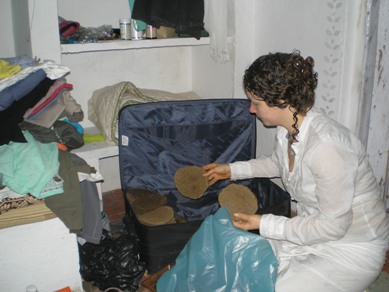 Clare packing her suitcase full of cow dung cakes
The funny thing is, the retreat was based around Imbolc and the goddess Brigid. Her colour is white and her elements are fire and water and she is known to feed the fire. When the Agnihotra fire had extinguished everyone kept hugging and kissing me and said how wonderful it was. The organizers designated me as their Goddess Brigid for the weekend which I thought was a real honour.