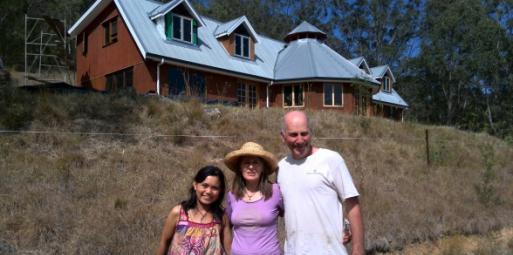 Maki Obokata (left), flew in from Japan to spend time at Om Shree Dham to refine her Agnihotra and Om Tryambakam Homa practice and to update herself in applying ash medicine as protection and antidote to radioactivity and in particular to share this with others in Japan.
She visited Om Shree Dham previously and returned to Japan just before the earthquake/tsunami took place in 2011. She was ever so grateful to have come across Agnihotra as she was suddenly finding herself in dire need of the protection which Agnihotra and ash medicine offers against radioactivity. She also wanted to help the people of Japan. We sent an Agnihotra kit to Maki in the mail and also regularly ash medicine to distribute.
Maki is sincerely wanting to assist her Japanese brothers and sisters with Homa Therapy. She has translated into Japanese the information package that comes with an Agnihotra kit provided by Homa Therapy Centre for Australasia – Om Shree Dham.
She has now taken back with her several Agnihotra kits for those who want to start Agnihotra and also copper Shree Yantra pendants for healing.
While staying here for a week Maki experienced the powerful cleansing action of Agnihotra and the medicinal ash. It meant a rather uncomfortable time as her body went through a big detox. She bore it with grace and fortitude. We just received a letter from her, now back in Japan. She says that her eczema is becoming a lot better with her renewed effort to apply Agnihotra ointment and taking Agnihotra ash in her water regularly.
Photo above: Maki (left), Lee and Frits at Om Shree Dham, Homa Therapy Centre, NSW, Australia