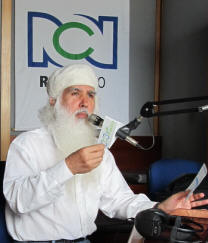 Following an invitation by Mrs. Dora Betancour and Mr. Lucas Maya, we arrived in Armenia, a town surrounded by wonderful hills, lush green vegetation and a wonderful climate. It belongs to the coffee belt of Colombia.
Since the idea was to inform as many people as possible about Homa Therapy, many radio talks and a TV interview in the "CNC del Quindio" channel were arranged. Several newspapers reported about Homa Therapy and the community was invited to the free Homa events.
Mrs. Dora Betancour, Dr. Humbeto Lema, Dr. Jesus Castaño, Ms. Enerieth and Prof. Abel Hernandez were the public relations team and did an amazing job in provoking a lot of interest in Homa Therapy in the radio listeners and TV viewers.