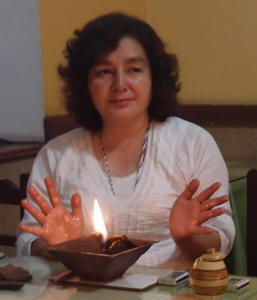 Milagro Victoria Hidalgo Flores from Rimac, Lima, Peru, South America reports:
I am 46 years old. I practice Agnihotra since I was 29 years old. One of my first Homa experiences was when I did Agnihotra on the 'Temple of the Sun' in Huaraz. We had to walk about 4 hours.
Upon reaching the central part inside the Temple, I did Agnihotra. I felt guided by my heart to hold hands with all who had accompanied us and chant the Mantra 'Om'.
I could see in a vision a young man like Saint Martin of Porres with many children. Strangely, the electricity had gone off when we did Agnihotra and came on when the Agnihotra extinguished. I felt a realization – Everything was in synchronization. It was the right gear, at the right time, at the right place with the right Homa Fire.
Although, I originally did not intend to perform this act, it was like an inspiration. When I left, I felt like a great accomplishment was made. My doing of this Agnihotra Fire Ceremony in this Temple justified my existence in this world. I felt an infinite peace. In addition, there was no fatigue or exhaustion. I felt light as a feather as I was walking down the mountain.