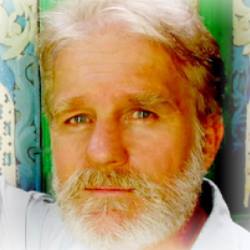 There are quite some Balinese people who are very keen to learn the form of Agnihotra we know and perform every day.
Hindu priests in Bali perform a fire practice that they also give the name of Agnihotra.
Even so, some of them say they are open to learning the Agnihotra as given by Shree for environmental healing.
I have become close friends with a local Shaman named Ketut who wants to learn Agnihotra so much so that he has assisted me with gathering dung and drying it on the roof of his home. This to me has made all the difference in helping me to stay and continue this sacred work we all share on a planetary scale…Doing what we can every day to increase love and reduce entropy.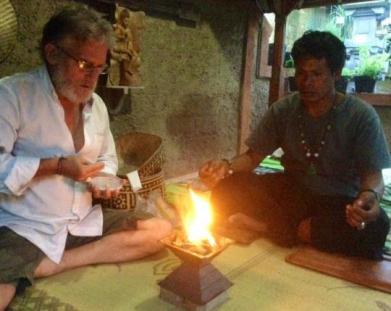 Rob and local Shaman, Ketut
One of my projects and passions is to help the poorer people of Bali to benefit from an above ground farming method many refer to as Aquaponics. Adding Agnihotra and Agnihotra ash to the method serves multiple purposes and functions as a buffer against acid build up within the system while also providing the full spectrum of micro nutrients and minerals needed for healthy plant growth as well as for the fish which work to supply the nutrients to the plants even as the plants offer the fish a means by which their water is filtered and made clean. We will be using an ornamental fish species known as Koi which can be sold as ornamentals to hotels and others who use them in their fountains and water themes.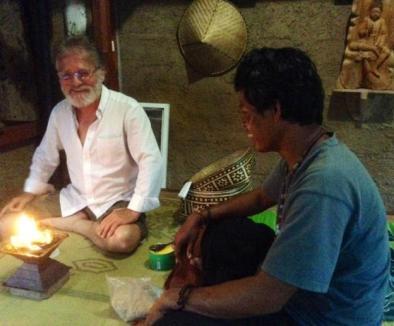 I am very grateful to Shree Vasant, the preceptor of Homa Therapy for the opportunity to serve all of Humanity and our Mother earth through the daily performance of Agnihotra. You can contact Rob at robert@reachbali.com