Richard Powers writes from Madison, VA, USA.
Ana Karyn Garcia of the Bioenergetics Institute in Ottawa, Canada invited me to come and talk about Homa Therapy Farming and to establish a Resonance Point or two.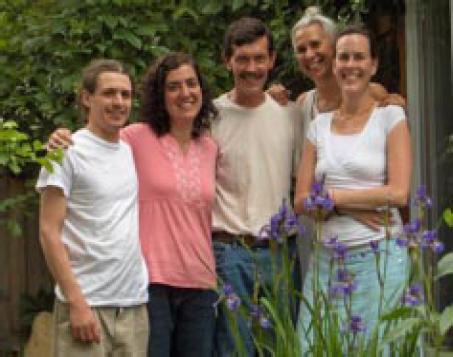 Several times I witnessed that my trip was totally in the hands of Shree. Halfway to the airport, we stopped for gas. At the pump I realized I had forgotten the key to the gas cap on my truck. After vainly attempting for ten minutes to pick the lock, I went inside and asked the clerk and a couple of customers if anyone knew how to pick a gas cap lock. The lady clerk told me to push in on the cap really hard and turn. Lo and behold, it worked and we were able to continue our drive to Dulles International, outside Washington, DC.
After my son Matthew dropped me off at the airport I proceeded to check in. Fortunately, I had purchased my ticket when the allowable luggage limit was two checked bags, so I was able to get all the Agnihotra supplies and books through to Ottawa. The limit now is one bag, so for future trips I will have to ship supplies ahead.
I met with Ana Karyn Friday afternoon and had a very enjoyable dinner prepared by her resident student Raham, a recent graduate of Video studies, focusing on documentaries. I was to stay the weekend at Samadhi Studio, an Ayurvedic and health studio run by Sahaj, another of Ana Karyn's students.
Saturday morning Ana Karyn, Sahaj, Raham, Dianna and I went to a small farm owned by Lyle Tweedy, who had quit his computer programming job recently to get back to nature.
We decided on the best spot for the central pyramid and performed the resonance point activation ceremony in the shade of a large tree. People seemed to come by for no reason, so by the time we had finished and were about to have a picnic lunch, there were six additional people.
The weather in Ottawa had been rainy and cool until the day I arrived; then it turned hot and sunny. It went back to cool and overcast after I left. How fortunate to have had good weather for our outdoor activities.
We returned to Samadhi Studio in time for the 6:30 p.m. talk. About thirty people showed up, many of them Ana Karyn's students. I presented a power point presentation, modified from the program Bruce Johnson produced for India. (nice work, Bruce). The talk went well, with time to teach those who wanted to learn how to perform Agnihotra. We then sat in a circle outside and had a great Agnihotra with about fifteen fires.
Sunday had no set schedule, so Sahaj, Dianna and I drove into the country to see the sights. Sahaj drove us to her friend Jesse's property where he gives tree-climbing experiences. I was amazed at Jesse's attunement to the trees and rocks on this very steep, boulder-strewn mountainside with huge pine trees. He communicates with them and has built a treehouse in one, which he is now modifying for handicapped access. He works with groups, but loves to take one person at a time up a tree, to reconnect them with nature. Children come with all sorts of electronic gadgets, iPods, Blackberrys and whatnot, and to start, he has them empty their pockets and hug a tree. I could really feel the energies of these 300 year old trees and, for the first time, appreciate the intelligence present in them.
I performed Vyahruti Homa there, and then Jesse took us to a farm where he was preparing for the arrival of six alpaca animals he was going to incorporate into his program.
We arrived at Eco Echo, an environmental campus for sustainable land management and stewardship programs. The farm was just recently established and is being managed by Eric Corneau. His business partner, Christopher Minnes, the owner of the land, lives in Hawaii, and was visiting. Chris's father had bought the property and had blasted a quarry there for its minerals. The idea came to turn the quarry site into an acoustic music and dance performance amphitheater. I performed Vyahruti Homa at both the house and the quarry, with some Om Tryambakam Homa at the latter. Everyone was quite enthusiastic about these Homas.
Shree obviously had a plan, even if we didn't.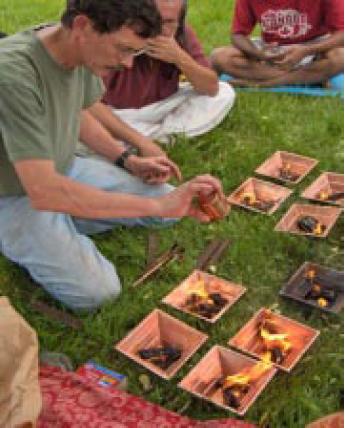 Monday's return flight was at 7 p.m., so I had time to meet with Luz, who had moved from Mexico to Ottawa eight years ago and is also a student of Ana Karyn's. Luz had just come back from a seminar in Montreal where the interest in Agnihotra is great, and she is pursuing those leads. Luz, Sahaj and I went to visit with Ana Karyn at 2 p.m., and at 3 p.m. Ana Karyn decided to install a Resonance Point in her backyard, with the outer pyramids placed in some of her neighbors' yards. I dug the hole for the resonance pyramid and performed the ceremony with plenty of time to leave for the airport.
On the one-hour flight to Ottawa, the pain in my ears had been terrible. Ana Karyn suggested putting ghee in my ears before the return trip; I did so, and had no problems at all flying home.
My heartfelt thanks to Ana Karyn and her students for their warm hospitality and love.
I had asked Shree to guide me prior to the trip, and as he is ever present, I know he will always guide our steps on this remarkable journey. Om Shree.