On September 20th, 2010, Dr Ulrich Berk from Germany installed a resonance point at "La Casa del Sol" Center in Andahuaylillas, a small village located 35 km outside the city of Cusco. Here we are performing Homa fires daily and on full moon days we are doing 24 hours of Om Tryambakam.
At this Center, there are 25 beds and it has been used for workshops for several years. Here we are helping people get out of their addictions. Our team includes a doctor, a psychologist, therapists and two cooks.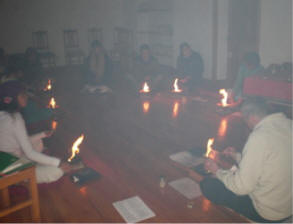 Also, in Cusco city, there is a clinic where we are doing Agnihotra every night for the public and every Thursday at 6 pm we perform Om Tryambakam fire for one hour.