At the invitation of Mr. Alan Yong and Mr Wong, three successful Agnihotra/Homa Therapy teaching tours have taken place in Malaysia, with public talks organized in most major cities and visits to various organic farms.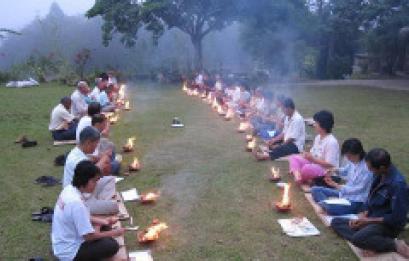 The third tour in July, 2010 also took us south to Johor to an organic farm and eco-tourism resort called Tanjung Sutera. Being relatively close to Singapore and the facilitator Betty Khoo having a network extending into Singapore, many Singaporeans attended the two-day Agnihotra Retreat. As a result, there is now a core group of Singaporeans practicing Agnihotra.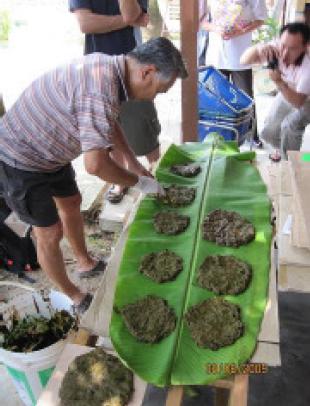 Mr. Wong of Kuala Lumpur, Malaysia and Nazli Anwari of Singapore are receiving Agnihotra supplies from Om Shree Dham to distribute in their respective countries. Mr Tam of Kahang Organic Rice Farm in Johor obtained Brahmin cows to support his Agnihotra practice on his organic farm and is now supplying Singaporeans with cowdung patties for Agnihotra. As there are no cows to speak of in the urban state of Singapore, various solutions to obtaining cow dung patties are being explored.
My husband Frits and I are so impressed with the community spirit in Malaysia that makes things happen. Big groups of people meet every weekend at sunrise in Kuala Lumpur to practice Agnihotra together. Mr Soh, who attended the first Agnihotra talk we gave and experienced miraculous relief from coccyx pain after attending one Agnihotra session, has leased a property in Kuala Lumpur which now serves as an Agnihotra centre. Mr. Wong has leased land owned by a Kuala Lumpur Agnihotri, Mr Ong. The land is reasonably close to Kuala Lumpur in a countryside area called Broga. The property is being developed as a place for retreat, healing and refuge and to support urban Agnihotris with organic food grown with the aid of Agnihotra.