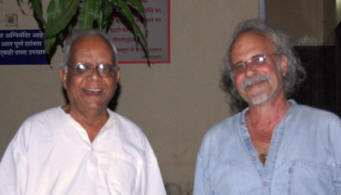 Karin Heschl, Bruce Johnson, Mary Lee Weir and I embarked on a Fivefold Path teaching tour in the southern Maharashtra state, city of Ratnagiri in India. This 4 day trip was arranged by Madhukar Appasaheb Patwardhan, an Agnihotri since the 1970s. It turned out to be a tightly scheduled, efficient tour of Resonance Points, prospective Homa Organic Farms, meetings with Agnihotris and talks to newer persons.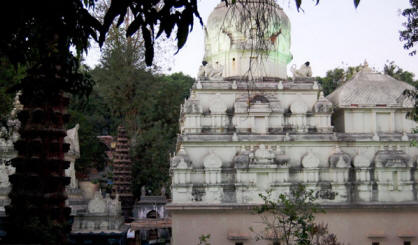 We stopped first in the city of Chiplun where a Parshuram Temple at which daily sunrise/sunset Agnihotra is performed is located. We arrived 20 minutes before sunset and were happy to meet Mr. Kale, current caretaker of Agnihotra here.
All of us treasured the opportunity to visit this Parshuram Temple, in the heart of this area called Konkan, Parshuram land.
(Photo right shows the temple. Lord Parshuram is the Guru of Parama Sadguru Shree Gajanan Maharaj, who took a vow to "resuscitate the Vedas." Manifestation of that vow is Agnihotra and the Fivefold Path. Photo above: Caretaker of the Parshuram Temple, Mr. Kale and Barry renew acquaintances in Chiplun after working on Homa projects 27 years earlier in Pune.)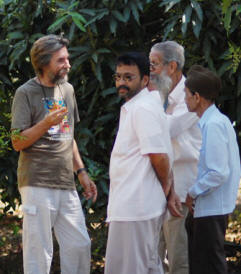 The next day we drove 3 hours to Devgad where a Resonance Point had been set up on the farm of Mahesh Phatak some years earlier by Karin. We were shown the lovely mango, cashew, jackfruit and chikoo trees. Ratnagiri in general and Devgad, in particular, comprise the heart of the mango belt in Maharashtra–mangoes "to die for", as the expression goes. The Alphonso variety is especially famous and the best are grown in Devgad. The owner, manager and their families at Mahesh's farm were so happy to see us and to report on their Agnihotra and other Homa experiences. We later went to their family home in the city and showed some Homa videos.(photo left: Bruce, Mahesh, Mr. Nene and Mr. Patwardhan (left to right) touring Mahesh's lush mango, chikoo, jackfruit, cashew orchard at Resonance Point in Devgad)
An afternoon talk arranged by Mahesh's father at the home of Mr. Suresh Gogate, was met with such enthusiasm that we extended the program an additional hour and then some of them purchased copper Agnihotra pyramids and other materials to start daily practice.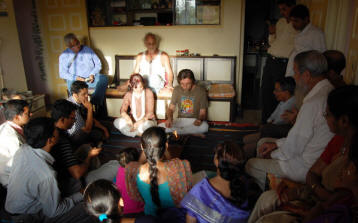 The next day we had an early morning talk with persons assembled at Kudal in Sindhudurg district of Maharashtra. Many of the attendees were already doing Agnihotra, so we stressed, among other things, the other four aspects of the Fivefold Path, Daan, Tapa, Karma & Swadhahya. Karin gave a demonstration of preparation of Agnihotra ash medicines, a truly relevant subject these days midst healthcare problems being endemic in India and as well in so called developed countries like USA. "Take care of yourself; prepare your own effective folk medicines from Agnihotra ash," the audience was told. (photo right shows Barry, Bruce and Karin performing sunrise Agnihotra with group of pregnant women and their spouses)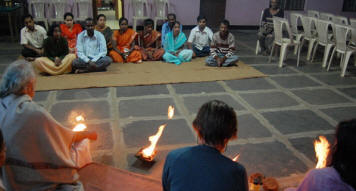 We returned that night to Ratnagiri and prepared for the lovely Homa teaching gathering that the Patwardhan Family had arranged for the next evening (photo left). Some younger persons showed special interest in our presentation, telling us later they wanted to become Homa Therapy teachers. It was "educational" for me too to visit some places I had taught at nearly 30 years ago when the message was more along the lines of, "dangerous and difficult times are on the way."
Now the message has morphed into, "dangerous and difficult times are upon us," hardly a message that meets with much disagreement these days. The follow-up, however, remains the same: do Agnihotra to heal the atmosphere and prevent or lessen the effects of a polluted planet.