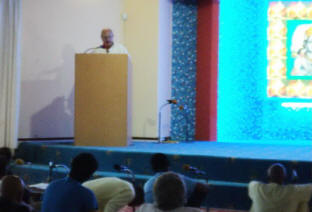 John Matlander writes about his visit to south Afria.
I was teaching Agnihotra and Homa Therapy in South Africa from February 14 till March 6, 2011. Thanks to Mr. Raj Singh, his wife Veena, my hosts and devotees of Swami Shivananda and members of Divine Life Society (DLS), as well as for the love and divine friendship I received from all the devotees.
In 1972, Swami Sahajananda, founder and spiritual leader of DLS in South Africa, visited the United States and heard that Shree Vasant was teaching Agnihotra. As a result Swami Sahajananda introduced Agnihotra in the DLS. Four thousands pyramids were imported from India and distributed as well as a pamphlet explaining the Agnihotra process.
In April 1997 Shree Vasant, in company of 4 people, travelled to South Africa and spent five weeks in Johannesburg and four weeks in Durban. His host was Mr. Prolal Singh who is the brother of Mr. Raj Singh. He visited many areas and suburbs in Durban, where Agnihotra was introduced in poor communities, farmers, schools and in temples. Today, some persons are still committed to the practice of Agnihotra.
With the help of Mr. Raj Singh and friends we were able to help a few families to start the practice of Agnihotra, and we gave several talks explaining the benefits of the Agnihotra process. The journey ended with a talk on Agnihotra at the Divine Life Society Ashram during a Satsang, which was attended by several hundred devotees.
During the Journey we were invited by Swami Shankarananda who is the spiritual leader of the Gayathri Peedam, MAHAVATAR BABAJI ASHRAM. After meeting with Swami we performed Agnihotra in the temple in front of the BABAJI statue. After singing of the Mantras, Swami Shankarananda addressed the devotees stating that our visit was not a coincidence, but a call of attention. He advised the attendees to perform Agnihotra daily.

Teaching Homa Therapy in South Africa from February 14 till March 6, 2011.
Also, at the invitation of the Mayor of Greytown, a nice little town located 80 kilometers from Durban, we introduced Agnihotra to the fire squad team in the county auditorium.
In Durban we celebrated sunset Agnihotra with the Preggie Moodley family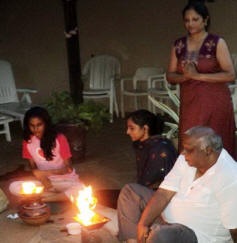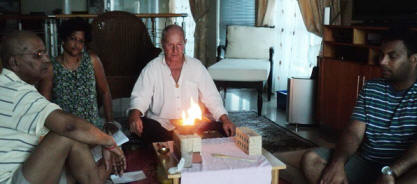 Sunset Agnihotra with Mike Naidoo Family, in East London
Sunset Agnihotra with Siva Naidoo family and friends, in Tongaat, Durban. After Agnihotra, we shared information and answered questions about the benefits of Agnihotra. (photo below)