The next destination on the Homa Colombia Tour 2019 was the big city Cali. Prof. Abel took the opportunity to present Homa Therapy through a TV interview. He invited everyone to the Homa Festival in the University of Valle, Cali.
(Photo above left.)

For the afternoon, Prof. Arnaldo Ríos, had organized an audio-visual presentation of Homa Therapy in the "Free University".

(Photos above during the presentation and practice of Agnihotra at the Free University.)

The day of the Cali Homa Festival arrived. The preparations had been made with great care at the Universidad del Valle. It was organized by the young musician Alelí Mesa Giraldo and her group, with the help of Prof. Jeiber Gallegos and other colleagues.
It was an event full of Grace and Love! (Photo below in the auditorium of the University during the presentation of Homa Therapy.)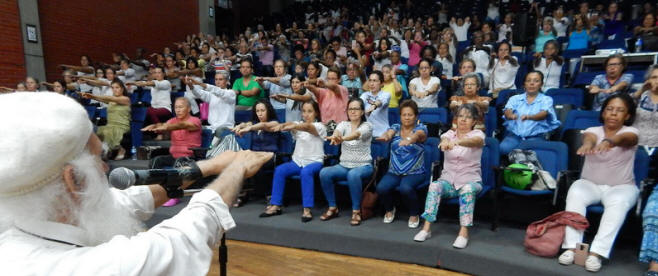 There was much interest from the participants in knowing about the benefits of Homa Therapy, its applications, its practice and its healing ash. There were live Homa healing testimonies and also video testimonies projected on a gigantic screen. The people also enjoyed simple therapeutic exercises and several intervals filled with songs, music and poetry.

Photos of the artists:
Cindy Muñoz, Max Ruiz, Estefanía Montoya and Christian Lara.
| | |
| --- | --- |
| | Everyone in the Homa Festival learned to sing the sunset Agnihotra Mantras. So, the audience vibrated with this chant. Our hearts were full of the great joy that emanated with the Light of the AGNIHOTRA Healing Fires. |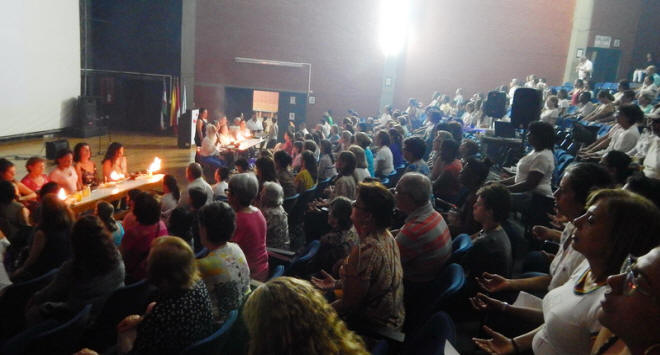 Each one of the approx. 400 attendees received the effects of the Agnihotra Fires silently with gratitude and humility.
For closing, Alelí (photo far right) gifted the audience some of her songs while a group of children danced and handed out lovely flowers.