HOMA FESTIVAL in 'SENA' (National Service for Teaching)
HEALING FIRES – SACRED SONGS – MUSIC – DANCES
A Festival for HEALING MIND, BODY and HEART!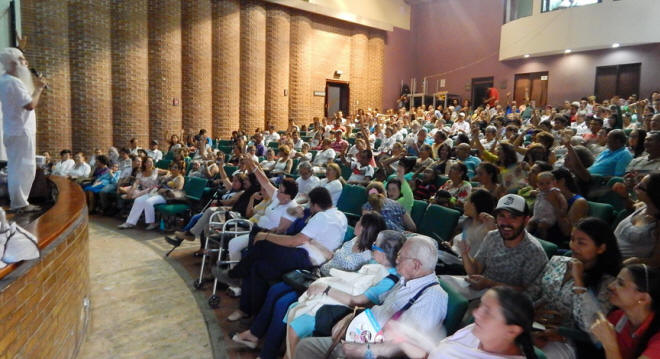 (Photo above:) Anandaji's music group delighted the audience with celestial and Colombian music, rhythm and songs.

Mrs. Natasha hosted the program and Mother Dora did the introduction with a Vyahruti Homa.

Prof. Abel talked with the attendees about their diseases and presented the solution with Homa Therapy.
Live testimonies were shared and videos shown from around the world.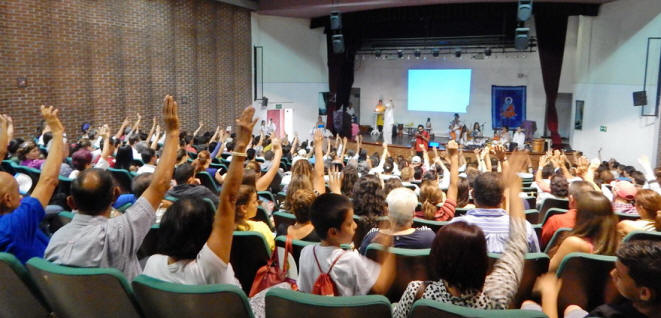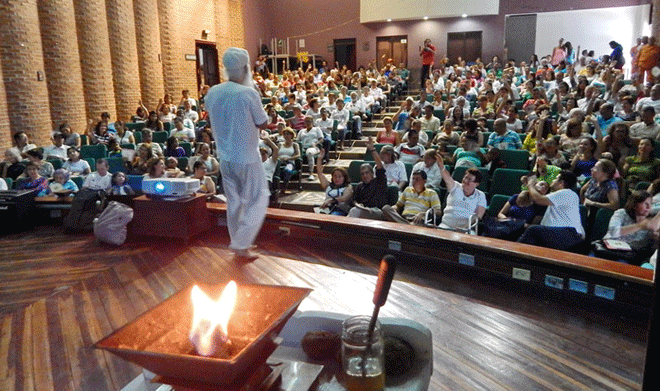 The public expressed their joy and hope with active participation! (see photos above)
At all times the Tryambakam Homa was being done in the background. (Photos below: Mrs. Elsa and Mother Dora practicing this Homa. The Yoga performance group.)
There were art performance interludes of:
– Arab-dance with Vanessa Rangel (photo left)
– Yoga-flow: Andrew Clark and Diana Lopez, with Alejandro Cortes' flute and drum (photo center)
– Yoga of Concentration with Jimmy Carmona and Nelly Paredes (photo right)

HOMA THERAPY

HEALING OF BODY AND SOUL
– THROUGH a HEART FULL of GRATITUDE and
LOVE TOWARDS ONESELF and OTHERS.
– Through a SILENT MIND, INSPIRED through LIGHT and NOBLENESS …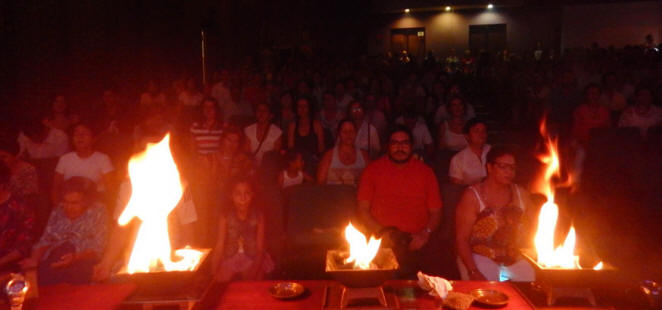 Mission accomplished!
It was time to bid farewell. We left happily with Madre Maria Teresa towards the North to encounter new Homa adventures.
Meanwhile, in the last call with Mother Dora, she said that "Every day between 80 and 100 people come to the Botica Sol to participate in the Homa Fires ".
What a joy is to share Agnihotra, the gift to humanity from the ancient Vedic Knowledge!