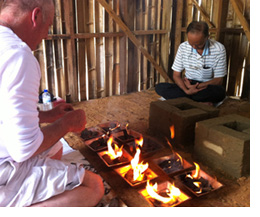 In September, 2011 Frits Ringma of Homa Therapy Association of Australia was invited by Mr Alan Yong to conduct a Homa Resonance activation at his organic Jack fruit farm in Lanchang, Pahang, Malaysia.
Shared Agnihotra sunrise took place at Datin Ky's place called Phoenix Rise situated in the hill district of Kuala Lumpur. Mr Soh coordinates the Homa Therapy activities here. Agnihotra and Om Tryambakam take place regularly. New people sit in the middle of the group Agnihotra circle to receive the healing from all sides. Mr. Soh is well known for his ash water eye drops which have been healing people of eye irritability and even cataracts.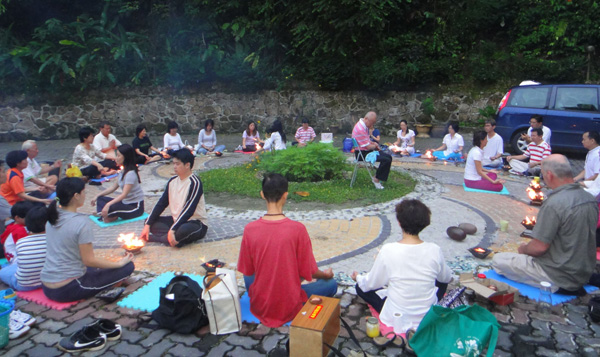 Phoenix Rise gathering at sunset, Kuala Lumpur
From there Frits and Mr Soh went on to Alan Yong's Jack fruit farm 1.5 hours north of Kuala Lumpur. He has resident Brahmin cows for their dung and a potential for ghee supply.
Agnihotra and Om Tryambakam have been performed there for the past 2 years and the trees are already producing large jack fruits.
The adjacent farm also planted jack fruit at the same time. It is not a Homa farm. The jack fruit trees are half the size and not bearing fruit. Left: Frits and TV Chin, pyramid activation in Agnihotra Hut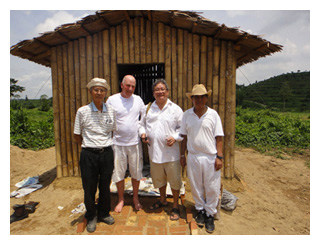 Frits installed the Homa Therapy Resonance System over 2 days with the help of Mr Soh and TV Chin, a retired agricultural scientist. A simple but robust hut had already been constructed from local material such as split bamboo for the walls and a grass thatched roof. The floor is covered with claybrick and cowdung render. 10 pyramids were activated with special Mantras and 4 of these were installed in the Agnihotra hut. 2 more for the Om Tryambakam hut. The remaing 4 were installed in resonance columns situated on the N-S-E-W boundaries of the farm. The effect of one Agnihotra fire covers approx. 40 acres. The resonance system boosts this effect to approx. 200 acres increasing vitality and pest resistance. The farm workers were keen to be instructed on Mantras and further refinements for the Homas.
After 2 days at the farm, Alan and Frits went back to Kuala Lumpur where a group Agnihotra meeting was orginised. After Agnihotra they did Mantra practice with the participants, before Frits flew back to Australia. Left to right: TV Chin, Frits, Mr Soh, Alan Yong