Project Prometra
Buyija, Uganda
Africa
asthma
HIV/AIDS
heart defect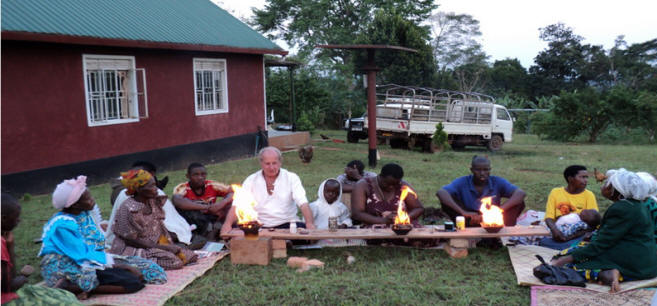 Dr John Matlander taught Homa Therapy in Uganda, East Africa from December 2010 till February 2011. He reports:
"Prometra Uganda is an NGO established in 2000 to respond to poor health conditions and inadequate modern health services by utilizing traditional medicine. It is affiliated to Prometra International with headquarters in Dakar, Senegal. It was founded by Dr Sekagya Yahaya who is a Medical Doctor and also a traditional healer. This organization has his main office in KAMPALA, capital of Uganda, but the field operation is at BUYIJA, 45 km away in the country side. The project is located on 240 hectares of farmland, which include the forest, a little farming area, few cows and goats, the living facilities to host the staff and guests for conferences."
"Prometra provides classes to the local traditional healers, as well as a certification. About 2000 healers are registered and working in groups. The classes, are given in the forest where medicinal herbs are cultivated as well."
"After having taken knowledge of the benefits of Agnihotra in Medicine and Agriculture, Dr Sekagya decided to introduce Agnihotra in his traditional healing classes. Medicinal Agnihotra ash powder and Agnihotra ash cream would be used for their patients." (see photo above right)

"HOMA farming is used to boost the production of the medicinal herbs and the apiculture project located in the forest. The healers are using honey in their medicine."

"We decided to train extensively 8 persons from the staff, who will in turn train the leaders of each group of traditional healers." (see photo below)

"This was quite a challenge, since the main problem arises with the GHEE. For the training, we bought it from a farm producing ghee. But in the bush, those traditional healers are mainly little farmers with such a low cash income that it was impossible for them to buy ghee. So the only alternative for Prometra was to supply them with ghee. The few cows available in the farm were giving one liter of milk a day, so we decided to buy a cow breed giving a minimum of 10 to 15 liters per day. We found a beautiful high breed cow and we bought it. After few days we started producing butter and ghee the traditional way, shaking the curded milk in a jar to make the butter.
But to make things easier and faster, Franklin Nelson from USA sent us a hand operated milk cream separator and churner. So the cycle was completed." (see cow photo below right)
"During the training some nice experiences happened and we would like to share them:
"When we got to the farm, the first day at dinner time, we were surprised to see a number of rats running all over the place and inside the bed rooms as well. At sunrise Agnihotra, we asked mentally for the rats to go back to the bush where they belong and we put some Agnihotra ash around the kitchen. The rats disappeared; even after 2 months we have not seen them again."
| | | |
| --- | --- | --- |
| | "One morning, we found a chicken with a loose hanging broken leg. The boys said that this would be for their lunch, but we said "noooo, let's try to heal it". So we tied a piece of twig on the leg and applied Agnihotra cream and every day. After one week, the chicken started using the leg. In the second week, we freed the leg and she was running with all the other chickens." | |
"There is an apiculture project with 8 beehives, but the bees were so aggressive that nobody could get close without being attacked, so they wore special suits and mesh."
"We decided to practice 30 minutes of TRYAMBAKAM HOMA every morning, starting 30 meters from the gate and coming closer every day. After the 6th day, we were at the gate and we entered. Surprise! The bees were flying around but did not attack. Next day came a team of carpenters to work on the beehives and nobody was harmed."
"During the last 3 weeks of the training, we consulted and treated the patients with Agnihotra ash, ash cream, and Agnihotra eye drops. We found a high rate of HIV+/AIDS, syphilis, tuberculosis and malaria as the main chronic diseases. The results were surprising. The persons were responding to the Homa medicine very fast. Especially on the collateral effects of HIV like herpes and skin rash, the healing was in 3 to 4 days. We ended up with so many patients that we did not have enough Agnihotra ash to keep up with the treatments."
"A 5-year-old boy came one afternoon with an asthmatic crisis; he participated in sunset Agnihotra and inhaled the healing smoke and the crisis stopped. Two months later, his mother said that he has not had an asthma attack again." (photo left)
"During the training, another 5 years old boy, E. Sekatte Vivian (photo below), with a genetic heart problem called 'free flow' showed a significant recovery after 4 weeks of treatment with sunset Agnihotra and applying every night Agnihotra ash cream on his chest."
Date

Blood
Pressure

Pulse

14/1/2011
60/40
146/min
22/1/2011
80/50
110/min
30/1/2011
70/50
105/min
6/2/2011
90/40
90/min
"When he started the treatment, he could not play with the other kids, because he was collapsing. After the 3rd week of HOMA treatment, he was playing soccer with his friends. To come to the Agnihotra, he had to walk 3 hours from the bush and another 3 hours to go back into the bush!"

Photos above show Dr. John Matlander (white shirt) sharing and teaching Agnihotra with patients and the building in Buyija, where people received the Homa treatment.