Architect, Alejandro Cajas,
Ecuador
PAPAYAS
"I want to share an experience which I had with the Agnihotra ash. I went to visit my mother and she told me that she was going to cut the male papaya tree in her garden because it was not giving anything. I said, 'Mom don't cut the tree, I'll bring some Agnihotra ash, which we will put around the tree and let's see what happens. I will also leave you a bag of Agnihotra ash so you can continuously apply ash.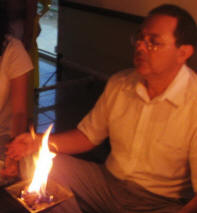 After some time my Mom called me happily and said 'Son, the papaya is starting to produce fruits'. I could not believe this because that would be a genetic change. So I went there and saw the papayas actually growing. And these were delicious papayas! We all enjoyed these fruits, a product of the Agnihotra ash. That to me is a great experience! It is practically a miracle of the Agnihotra ash and the Agnihotra fire." Editor's note: Genetic Mutation is a natural response from the Nature, not to be confused with Genetic Modification which is a very risky and dangerous man-made technology.